What is the Best French Press for Making Cold Brew?
What is the Best French Press for Making Cold Brew?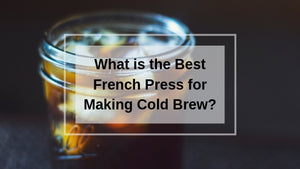 Did you know you can make cold brew with a french press coffee maker? That's right, it's not just for making hot coffee.
This is especially good news for the beginning of summer since we will most likely be craving cold coffee during those scorching months.
To help you choose the best french press for making cold brew, we've compiled a list of a few of our favorites.
Espro Press P3, P5, and P7: Best Overall for Cold Brew
The Espro Press is an overall favorite of ours. It not only makes an excellent cup of hot coffee or even hot tea, but it is perfect for brewing cold brew this summer.
If you have the money to spend, we highly recommend it!
The Frieling French Press is one of our staff picks and a great overall press for making a good cup of coffee.
If you purchase the Frieling, you're guaranteed a good cup of coffee every time: hot OR cold.
Sometimes you want to be able to make cold brew at home but aren't sure you can afford a coffee press at the moment.
If you're wanting to make a good cup of coffee but also want to save money, try the Bodum Brazil French Press.
At only $16.99, it's our favorite pick for a budget french press. 
This list of the best french presses for making cold brew will give you the help you need to make the best coffee you've ever made during the summer heat. Check out our full selection of french press coffee makers here.
How Do You Make Cold Brew With a French Press?
We hope these instructions help you feel comfortable enough to try making your first cup of cold brew in your french press coffee maker.
View 
SIMPLE COLD BREW RECIPE