3 best French Press Recipes you MUST try
3 best French Press Recipes you MUST try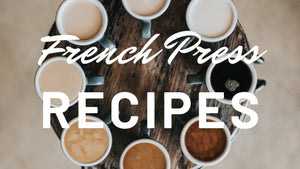 Your french press coffee maker is very versatile! If you're ready to move on from hot french press coffee and want to see what else you can make, check out our french press recipes!
Cold Brew French Press Coffee Recipe
 Ingredients & Tools: 
Steps:
Grind 1 (one) cup of coffee (on coarse grind)
Pour coffee grounds into french press
Add 3 (three) cups of water, wait 30 seconds, then add 2 (two) more cup of water
Use a spoon or wooden stirrer to make sure the coffee grounds and water are mixed. You don't need to stir a lot.
Place the french press plunger on the very top and let it sit for 12-24 hours (room temperature for 12 hours or refrigerator for 24 hours)
After the 12-24 hours pass, push down on the plunger until the coffee is filtered. Then pour it over ice cut it with water or the milk of your choice, and enjoy.
NOTE: You can heat it up and serve it hot if desired.
You can refrigerate your leftover cold brew concentrate for up to eight days!
How to Make Perfect Tea With a French Press
Pre-warm your french press with hot water to keep the temperature even throughout the process.
We recommend using a separate french press coffee maker for tea because coffee creates an oil residue over time.
Scoop the tea into your french press and add hot water
Check out the table below for water temperatures and steep time based on which type of tea you're using.
When the tea is done steeping, press the plunger of the french press all the way down to the bottom.
Pour and enjoy! You can check out our more detailed video tutorial here.
| | | |
| --- | --- | --- |
| TEA TYPE | WATER TEMP | STEEP TIME |
| WHITE | 175-185 F (80-85 C) | 1-3 MINUTES |
| GREEN | 180-185 F (82-85 C) | 2-3 MINUTES |
| BLACK | 200-205 F (93-96 C) | 3-5 MINUTES |
| DARJEELING | 185 F (85 C) | 3 MINUTES |
| OOLONG | 185-205 F (85-96 C) | 3-5 MINUTES |
| HERBAL | 205 F (96 C) | 5-7 MINUTES |
The Best French Press Iced Coffee Recipe
Ingredients & Tools: 
Steps:
Different than cold brew because it takes only a few minutes!
Start by scooping your coarse coffee grounds into your french press.
You'll want to double what you do for a hot cup of coffee because you'll be pouring over ice, so add 4 (four) tablespoons of coffee grounds for every 6 (six) ounces of water.
Add hot water to the coffee grounds.
Stir lightly, place the plunger at the top, and let brew for 4 (four) minutes.
After four minutes, push the plunger all the way down and pour your coffee over ice.
Add milk or enjoy it black!
View All French Press Products