Can I Avoid Sludge (grid) in My French Press?
Can I Avoid Sludge (grid) in My French Press?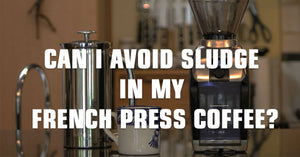 The french press is known for its robust, bold flavor. Part of the way we get this great flavor from using a french press is through the sludge created by the hot water, coffee grounds, and natural coffee oils.
Because we use a plunger and filter method for a french press, the sludge is left behind at the bottom of your cup. This sludge actually contains natural coffee oils that add nutrients and flavor to your coffee.
But if you're wanting to avoid sludge in your french press coffee, there are a few ways to do it.
Use the Right Grind
It is important that you use a coarse, consistent grind. If you're seeing too much sludge in your coffee, it could be that your grounds are too fine, or you're coffee grinder isn't consistent. Try coarsening up your grind or investing in a more consistent burr grinder.
Blade grinders are inexpensive, but they produce grounds that aren't level with one another. A burr grinder, like the Baratza Encore or the Lido 3 Hand Grinder, is designed to consistently grind coffee so that you'll have grounds of the same consistency every time.
A Second Filter Basket
A standard french press comes with one filter, but a french press like the Espro Press or Frieling French Press comes with an extra filter basket. This double filter system helps prevent the grounds from getting through, and the basket catches the sludge.
If you decide that you want to try your french press without the sludge, try these steps that we listed above. If you want to purchase one of our Espro Press french presses or a burr coffee grinder, check out our store.