AeroPress Coffee Maker
Hurry, take advantage of your limited time offer.
ENJOY 5% OFF* STOREWIDE with coupon "FP5".
discount will be automatically applied on the price of the qualifying product as you checkout
*brands are excluded: Baratza
FREE* U.S. SHIPPING ON ORDERS $49+
NO HASSLE 45 DAYS RETURNS
NO SALES TAX*
PRICE MATCH & 100% SATISFACTION GUARANTEED
100% U.S. Based Customer Service. Contact us or call (505) 750-1144
WORLDWIDE SHIPPING
Makes great coffee
Makes great coffee and is easy to clean up; everyone in the family likes it. I'm still experimenting with brew temperature and time to get the best coffee. Only makes one cup at a time, so I bought two of them (they're cheap enough). By the way, French Press Coffee was great to deal with.
Dear Alan for your business and feedback. We are appreciate it very much. All the best, FrenchPressCoffee.com
My new favorite method for home brew
I previously had thought my French Press was the absolute best way to make a cup of coffee, short of using an espresso machine. I went to this website in search of a new carafe for my press, and read your review of the AeroPress and bought myself one. Let me tell you, I am truly impressed, and wholeheartedly recommend it to anyone who enjoys a great cup of coffee! I would recommend checking out the many recipes one can find online, and what I have found works best for me is the inversion method. I use the same amount of coffee as my one cup French press, but grind it finer (20 on my Encore burr grinder; 34 for regular French Press) ; I also bought an optional metal filter so more oils pass through for a bolder cup and I don't have to worry about replacing the paper filters over time. I recommend you take the time to dial in the grind level, as it really does make a difference. In short, I HIGHLY recommend this purchase, and I'm afraid to say my old trusty French Press is now a wall ornament. Also, delivery was super fast.
Thank you for your feedback. We are appreciate it very much. All the best, FrenchPressCoffee.com
Aeropress
I found the Aeropress to be very efficient in brewing both expresso-like and french press-like coffee. It allows a lot of experimentation which is both good and bad - bad because you have to spend some time adjusting several parameters by trial and error to achieve the results you want. Good because it is adjustable and you can get just what you want in the way of a cup of coffee. One negative - the lettering was virtually gone after using twice and washing once. Aeropress is replacing the cylinder but there is no guarantee it won't happen again as this is apparently a random occurring problem.
Dear Dave! Thank you for your feedback. We are appreciate it very much. All the best, FrenchPressCoffee.com
What a perfect gift!
Let me begin by saying the service, price point, and delivery was superb. I ordered this as a gift with the deadline of Christmas right around the holiday and it arrived just as promised.
As far as the press itself, I cant say enough good things. Over the years, I have turned my fiancee into a brew snob like myself, and he has been most impressed. He uses it to make espresso everyday since it arrived and I have used it a few times for my morning coffee. It makes an exceptional brew.
I highly recommend not only this company, but the product itself. Keep up the good work please! -Korri
Hello Korri! Thank you for your feedback. We are appreciate it. All the best, FrenchPressCoffee.com.
Great service. Fast shipping.
Hello David! Thank you for your feedback. We are appreciate it. All the best, FrenchPressCoffee.com.
Best coffee ever !
Great products and service ! ☕️❤️
Hello Don! Thank you for your feedback. We are appreciate it. All the best, FrenchPressCoffee.com.
New Favorite Way to Make a Quick Cup
So many nobs to turn on a fairly simple device. That plus the extremely easy clean up makes me very happy. Service from frenchpresscoffee.com was excellent as well.
Hello Vincent! Thank you for your feedback, we are appreciate it. Enjoy your coffee, FrenchPressCoffee.com
Pleased with one caveat
The AeroPress is an ideal travel companion for someone used to waking up to an espresso or cappuccino in the morning. My only disappointment was that the promised stirring paddle was not included. The actual AeroPress plastic paddle is a bit bulky, and the smaller paddle would have made a nice addition to my traveling coffee kit.
Hello Randall! Thank you for your feedback. It looks like this was mistake on our end. I'm very sorry about missing paddle. We will send stirring paddle shortly. Enjoy your coffee. All the best, FrenchPressCoffee.com,
Técnica TOP para café
É uma das minhas preferidas!! A French Press Coffee mais uma vez tem o meu aval, simplesmente fantástica!
great
A very good product. French Press Coffee is great to buy from with very good service, fast shipping. Already planning the next order.
Thank you French Press Coffee!
Thank you Jan! We are appreciate your feedback. Enjoy your coffee,
AeroPress Coffee Maker vs French Press
The AeropPress is the best travel coffee maker out there
Compact, durable and lightweight, you'll find the Aeropress coffee maker ideal for use in your kitchen or when traveling, camping or backpacking.

Easy to clean and less expensive than espresso makers, the AeroPress coffee maker will give you one to three cups of the richest, most satisfying hot, fresh coffee you'll ever taste within seconds of pressing the plunger. Makes a great coffee gift, too!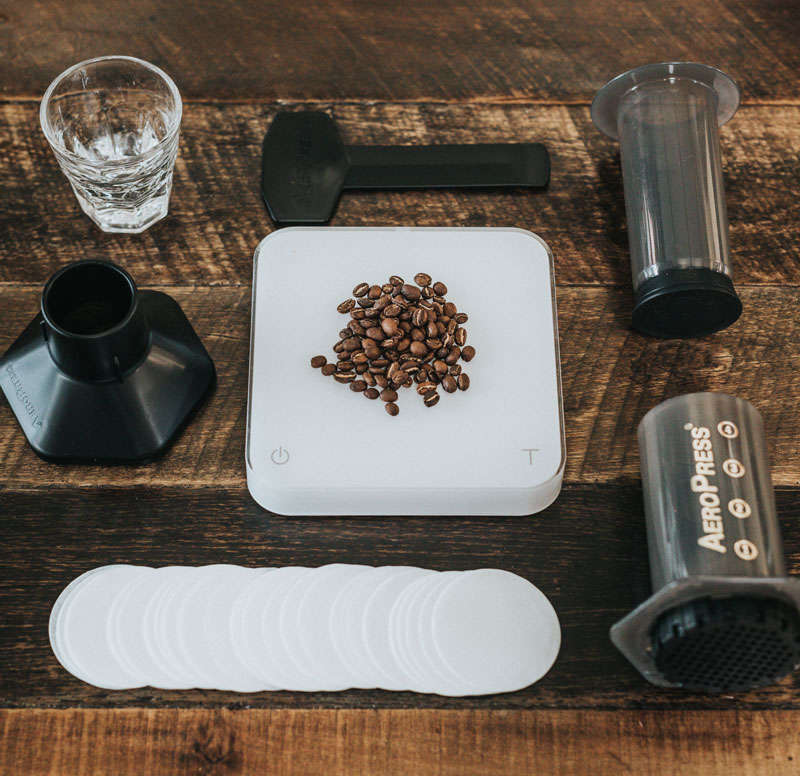 With the AeroPress coffee maker, you'll be able to brew strong bold-tasting coffee under the perfect conditions - total immersion, quick filtering and the right temperature. In fact, coffee professionals and serious coffee enthusiasts have made the Aeropress
Coffee Press
one of the most popular coffee makers in the world.
Rapid, total immersion brewing process makes delicious full flavored coffee without bitterness
Makes up to 8 oz. per pressing in about one minute
Brews regular, American, Espresso style coffee for use in lattes and other espresso based drinks
Paper filter means no grit in your cup (unlike a French press)
Clean up takes just seconds
Available with zippered nylon tote bag - great for travel
Bisphenol-A (BPA) and phthalate free
Made in the U.S.A.
SIGN UP AND GET 5% OFF TODAY
HURRY, LIMITED TIME OFFER* FIRST TIME CUSTOMERS ONLY!