Review of the Espro Cold Brew Kit
Review of the Espro Cold Brew Kit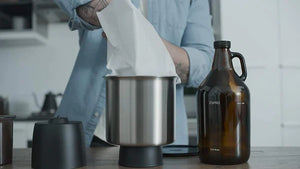 Here's the reality: the warm months are still upon us and they will be here for quite a while and that makes most of us crave smooth, refreshing cold brew.
Unfortunately, many of us are still spending our summer in quarantine or avoiding going to the coffee shop when we can. This doesn't mean we can't enjoy a delicious cup of craft-quality coffee. 
Espro recently released the Espro Cold Brew Kit, a sleek, innovative cold brewing design for all your summertime social distancing needs. 
dlmag.com
First, what is so special about cold brew?
Those of us here at French Press Coffee love cold brew. In fact, cold brew is so delicious that it's tempting to drink even in the frigid winter months. But why do people love it so much? Isn't it the same thing as iced coffee?
Well, it's not like iced coffee at all. Sure, they're both served over ice and have delicious amounts of caffeine. But they're brewed very differently, which ultimately yields a different flavor altogether. 
Iced coffee is almost always brewed exactly like drip coffee. When the drip coffee is done brewing, the coffee is set out to cool down, and then placed in the fridge to serve over ice later.
Some people even brew their iced coffee extra strong, and then pour the hot coffee over ice, which dilutes the strength. We don't recommend this method however, because it won't end up tasting very good. 
However you brew it, your iced coffee is going to end up tasting mildly bitter. When coffee is brewed hot and then cooled down, the flavor profile changes. 
Cold brew on the other hand, is brewed with these changes in mind. Cold brew originated in Japan as a way of enjoying chilled coffee without harming any of the coffee's natural flavors. Now you can find it in almost any craft coffee shop you visit, and you can sip on it black or with your favorite milk and sweetener. 
Cold brew is made by adding cold or room temperature water to coarsely ground coffee. The trick is leaving the coffee brewing for 12-24 hours, to give the coffee plenty of time to steep. Because you never add hot water to the grounds in the entire process, the delicious flavors of the coffee remain intact. 
What is the Espro Cold Brew Kit
There are plenty of innovative ways to make cold brew at home, like using a french press or a toddy cold brew system. In fact, it's easy to make large batches of cold brew at once, which will give you concentrate for up to two weeks! Because there are many different ways to actually brew it at home, it's important to find the right cold brew kit to fit your coffee needs!
The Espro Cold Brew Kit is clean, sleek, and trendy. It's definitely the kit for people who appreciate both craft coffee and a neat countertop. Their cold brew kit is not just the brewing mechanism itself. The growler, which you brew the coffee directly into, can be used to store concentrate throughout the week.
This simple three-part design allows for easy use and easy clean up. If you're someone who likes to store your coffee equipment on the counter or on an adorable coffee cart in your kitchen, you'll love the design and aesthetic of the Espro kit.
Features of the Espro Cold Brew Kit
Espro's design is innovative for a few reasons. It is innovative in its trendy aesthetic, its usability, and its process. Here are some of the main features of the Espro Cold Brew Kit:
Auto-Locking Valve
Amazon.com
The auto-locking valve on the cold brewer is something you definitely won't find on every cold brew making kit. The valve sits on top of the glass growler while you brew your coffee.
When you place the valve atop the growler, it automatically opens and locks itself in. This helps assure ease when you're using it and thinking of ten million other things all at once. 
When you're done brewing your coffee, you can take the valve off the growler. You'll notice that as soon as the valve leaves the growler, it automatically closes. This allows for little to no spills in the brewing process. It's such a nice step in making this process as easy as possible.
Resealable Glass Growler
I personally love everything about the glass growler that comes with the Espro brewing system. First of all, its appearance is beautiful. The amber color makes for a perfect trendy look, which will fit perfectly on any type of kitchen countertop. 
The glass carafe also comes with markings on the side that are simple and easy to read. You'll find markings for measurements based on different cold brew recipes and brew times. That way, you know you'll be making cold brew with consistent measurements every time you try it!
And if your brew doesn't turn out the way you like, you can adjust using the markings on the growler! Once you've brewed a batch that you love, you can store the coffee concentrate inside the growler in your refrigerator.
Plastic Cold Brewer and Lid
The cold brewer and lid are both BPA, BPS, and phthalate-free! That means you can rest assured that there won't be any harmful chemicals or materials involved in your cold brew making process.
You can choose from a brushed or matte black finish, and the only size they're currently offering is 64 oz. That size is perfect for being able to make a large amount at once and save some concentrate in the refrigerator for busy mornings!
Two Different Filters
You'll be able to choose between two different types of filters in your brewing process. The first type in the Espro Cold Brew Kit is the micro mesh filter. You can choose this one for a rich, grit-free cup of cold brew! The second type of filter is the compostable paper filter.
The Espro Kit comes with 5 of them to begin, and you can use the paper filter for a bold, full-bodied glass of cold brew. 
Easy Cold Brew Recipe with the Espro Cold Brew Kit
Normally we talk about brewing cold brew with a french press, which is also a very simple and delicious way of brewing. With this cold brew coffee maker, most everything is the same, just with a different vessel. 
First, you'll want to grind your coffee on the coarsest setting possible. Then, you can take whichever filter you choose (paper or micro mesh) and place it inside the cold brewer. 
Next, you'll want to use the glass growler for measuring. Fill the growler to your desired height with cold water, and then pour the water into the brewer. 
You'll then place the brewer on your counter. Make sure the lid is on your brewer. Wait about 12 to 24 hours for the coffee to brew.
Then, you have it! Put the brewer on top of the growler and let it filter through. Once you're done, you can clean the grounds and enjoy your cold brew concentrate!