Porlex Grind Size Settings for French Press, Aeropress, Chemex, Hario V60, Espresso
Porlex Grind Size Settings for French Press, Aeropress, Chemex, Hario V60, Espresso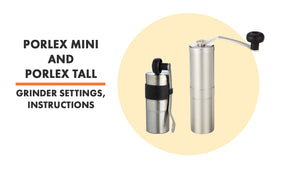 So you have your brand new Porlex Mini II or Porlex Tall II Coffee Grinder, and you're ready to make the best at-home cup of coffee you've ever had. You unbox your new Porlex hand coffee grinder, take out your favorite beans from the pantry, and grab a mug. But now what? How do you actually grind your coffee using the Porlex Coffee Grinder?
Porlex grind size settings chart:
These are what you'll set to adjust your grind. The more clicks (clockwise), the coarser the grind. Just turn the adjustment nut and count to the number you want.
Porlex II (Mini and Tall) | Each Step = 37 microns
Method
Sweet spot 
(clicks)
High Range (clicks)
Sweet spot
(microns)
Hight Range
(microns)
Turkish
2
4
74
148
Espresso
9
12
333
444
Aeropress
15
18
555
666
Por-Over, V60
22
25
814
925
Chemex
31
35
1147
1295
Cold Brew
36
40
1332
1480
French Press
42
48
1554
1776
How do you grind your coffee using the Porlex Coffee Grinder?
Other Helpful Tips for Using Your Porlex Grinder:
If you need to make an adjustment to your grind settings after tasting your coffee, make sure you're making small changes. A little goes a long way with the

 

Porlex Grinder
You can make small adjustments to the grind setting (coarser or finer), or you can adjust your extraction time using the table above.
For the best tasting coffee, grind your whole bean coffee right before you brew!
We recommend leaving the chamber completely empty when you're making an adjustment to the grind size.