What is the best Coffee Grinder for French Press?
What is the best Coffee Grinder for French Press?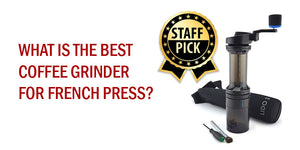 A coffee grinder is one of the most important purchases you'll make in your lifetime of coffee drinking. It is in the same category of importance as the type of coffee you buy or the kind of brewer you use.
For the best quality and experience, you'll want to always use a burr coffee grinder instead of a blade grinder. It provides better taste, more accuracy, and a lower risk of malfunction.
Once you've chosen the type of coffee you want and the French Press you like best, it's time to choose what type of grinder for french press will work best for you!
We've chosen three of our favorite grinders for french press coffee and listed them for you below, but you can find an even larger list of grinders that we approve here.
Best Manual Grinder for French Press: Lido 3 Manual Hand Grinder
Although this grinder is perfect for lightweight travel needs and kitchen areas with smaller storage space, the Lido 3 Hand Grinder is the ideal grinder for any coffee lover.
It produces delicious, accurate results and has been the consistent Staff Pick for favorite manual coffee grinder.
Best Electric Grinder for French Press: Baratza Encore Electric Coffee Grinder
For some customers, an electric grinder is a better option. If you are more concerned with efficiency and speed in a coffee grinder, the Baratza Encore is an ideal choice for you.
It features over 40 grind settings, which will give you both freedom and accuracy in your coffee making.
Get Baratza Encore Coffee Grinder 
Best Budget Grinder for French Press: Hario Skerton PLUS Ceramic Burr Hand Grinder
Sometimes the more expensive coffee grinders can be too much for your budget.
You deserve to have an accurate grind and the best grinder for french press regardless of your spending limit, which is why we highlighted the Hario Skerton Hand Grinder as a budget-friendly option.
This grinder is portable and easy-to-use, and the ceramic finish looks nice on any counter space.
Get Hario Plus Skerton Coffee Grinder
For more answered questions about French Press coffee, brewers, grinders, and more, check out our FAQ blog here.