A Comprehensive Review of the Frieling French Press
A Comprehensive Review of the Frieling French Press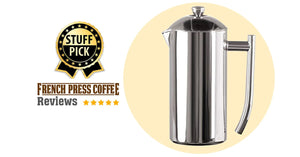 Do you want durability in your coffee maker? What about the ability to keep your fresh coffee much hotter than other coffee makers? The Frieling French Press is one of the most popular french press coffee makers on the market, and there are plenty of good reasons why.
This is a comprehensive review of the Frieling French Press, with details of what its made of, how to use it, and its best and most helpful features. Read our review and then decide for yourself if its the french press for you!
Who is Frieling?
Frieling started as a company in 1988 with a vision of providing excellent coffee and food to hotels and restaurants all over the world.
They make and manufacture superb products. They make coffee makers, kitchenware, small kitchen appliances, tableware, cleaning tools, and entertainment pieces.
Their trademark motto is "We are seeking fresh solutions for our customers." Frieling cares about creating lasting products of excellent quality in order to provide customers on both a personal and wholesale level with amazing service.
What Are the Key Features of the Frieling French Press?
One of the best features of the Frieling press is the fact that it's made of 100% stainless steel. That's right, not a single inch of the Frieling press is made of plastic.
The body, plunger, and lid are made with 18/10 stainless steel, which means it's incredibly durable and will always hold a beautiful finish.
The Frieling french press is also double wall stainless steel, which means it's an insulated french press. This double wall insulation feature helps keep the coffee extra hot, so that you can enjoy your coffee as slowly as you want.
In fact, the Frieling retains heat four times longer than glass french presses. Sometimes it becomes frustrating to take the time and care to make a cup of french press coffee, only to have it cool down in the glass carafe way too quickly.
Another awesome feature of the Frieling press is the plunger mechanism. Because the entire press is made of stainless steel, the plunger is durable than most french press plungers.
You'll find that the plunger itself looks like any plunger you would find in a french press such as the Bodum or Forlife.
The plunger stick and knob at the top are both made of steel. The plunger knob is cylindrical at the base, and flat at the top, which makes it easy to press down on.
The filter and mesh screen piece attach around the plunger stick and filter out the necessary coffee grounds and oils when you're brewing your coffee.
This feature is a classic french press feature, but the high quality stainless steel adds extra durability to the Frieling press.
All components are dishwasher safe.
Frieling French Press Instructions
The Frieling french press comes in five different sizes: 8 oz, 17 oz, 23 oz, 36 oz, and 44 oz. Depending on what size you have and how much coffee you want to brew, you can alter the instructions accordingly.
The general rule of thumb is 8 grams of coffee to every 4 ounces of water. Or, you can check out our brewing calculator.
Things you'll need to brew with your Frieling press:
Frieling French Press
Your favorite coffee beans
A good coffee grinder
Water (preferably filtered)
A gooseneck kettle
A stirring spoon
A coffee mug or cup
A scale or coffee measurement scoop
First, you'll want to weigh out your coffee beans using a scale or measuring scoop. Let's use an 8 oz Frieling press as our example here.
Again, depending on how much coffee you want to brew, you can adjust the amount. So, for an 8 oz french press, measure out 16 grams of coffee.
Then, boil your water. You can use an electric gooseneck kettle if you have one, or you can boil your filtered water on the stove.
While that is heating up, take your grinder and toss in the 16 grams of coffee beans. For a french press, you want to grind on coarse.
Now you can take the coffee grounds and place them at the bottom of the french press. Then, take the boiling water in the gooseneck kettle and pour it slowly onto the grounds for about 10 seconds.
Then let the coffee bloom for about 20 seconds more. Then, stir gently. After that, pour hot water to the top of the carafe. Set a timer for four minutes and wait.
Once your timer is done, you can take the plunger and lid and place it on top. Then, slowly press down on the plunger to filter out the coffee.
After you're done filtering, it will be time to pour your coffee into your favorite mug and enjoy! Again, because of the double wall insulation, your coffee will stay hot for a while.
But always make sure not to leave it in with the coffee grounds too long, or it will start to taste burnt.
What Can I Make with the Frieling French Press?
Frieling french presses were designed for not just home use, but for wide-range use in the hospitality industry in places like hotels and restaurants.
Some people don't realize that you can actually make hot coffee AND tea with the Frieling press, as well cold brew coffee.
If you are interested in making tea with your french press, you can check out our brewing guide here. If you want to try to make cold brew, head on over to our cold brew how-to here.
Purchasing the Frieling French Press
Like we mentioned earlier, the Frieling French Press comes in five different sizes. Determining which size you'll want will depend on how many people you see yourself making coffee for.
If you usually just make coffee for yourself, the 8 oz press is perfect. If you're making coffee for your whole family, or if you use one at a restaurant, the 44 oz would be ideal.
You can also choose from a brushed or mirror finish, which depends on whether you want a shiny exterior or something more subdued.
You can purchase your Frieling French Press from our store here.
Conclusion
The Frieling French Press is a durable, long-lasting, classic coffee maker that is perfect for home use, and hotel and restaurant use.
It is a refined french press that keeps coffee hot for a longer amount of time, and brews delicious coffee every time. If you think this is the coffee maker for you, head on over to our store to buy your Frieling French Press today.