Espro Press P5 - Glass French Press Coffee Maker (EXCLUSIVE: Free Coffee Stir Paddle)
Espro Press P5 - Glass French Press Coffee Maker (EXCLUSIVE: Free Coffee Stir Paddle)
FREE FRENCH PRESS INSURANCE (EXCLUSIVE)
IF YOUR FRENCH PRESS IS BROKEN, WE'LL GIVE YOU 50% STORE CREDIT


FREE 1 YEAR FRENCH PRESS INSURANCE* AGAINST ACCIDENTAL BREAK
FREE* U.S. SHIPPING ON ORDERS $35+, FREE RETURNS
NO HASSLE 45 DAYS RETURNS, NO SALES TAX*
PRICE MATCH & 100% SATISFACTION GUARANTEED
100% U.S. Based Customer Service. Contact us.
WORLDWIDE SHIPPING
The BEST
This is my first french press press and it made the best, most silky smooth cup of coffee that I have ever had!
Dear Christine! Thank you for your feedback. We are appreciate it very much. All the best, FrenchPressCoffee.com
Love It
We love our Espro Press P5. Just bought another one for our cabin.
Dear Linda! Thank you for your feedback. We are appreciate it very much. All the best, FrenchPressCoffee.com
Almost gave up on always having grit...
Got the P5 for Christmas. It is an amazing French press! The filter is awesome. No coffee grit gets past it! I was used to some healthy silt at the bottom and barely any with this press. Best design ever. And this is without the paper filters!
Hello CharLea! Thank you for your feedback. We are appreciate it. All the best, FrenchPressCoffee.com.
Espro P5 - French Press with Thick & Durable Glass Carafe
Brew Grit-Free, Rich yet Smooth Coffee with Espro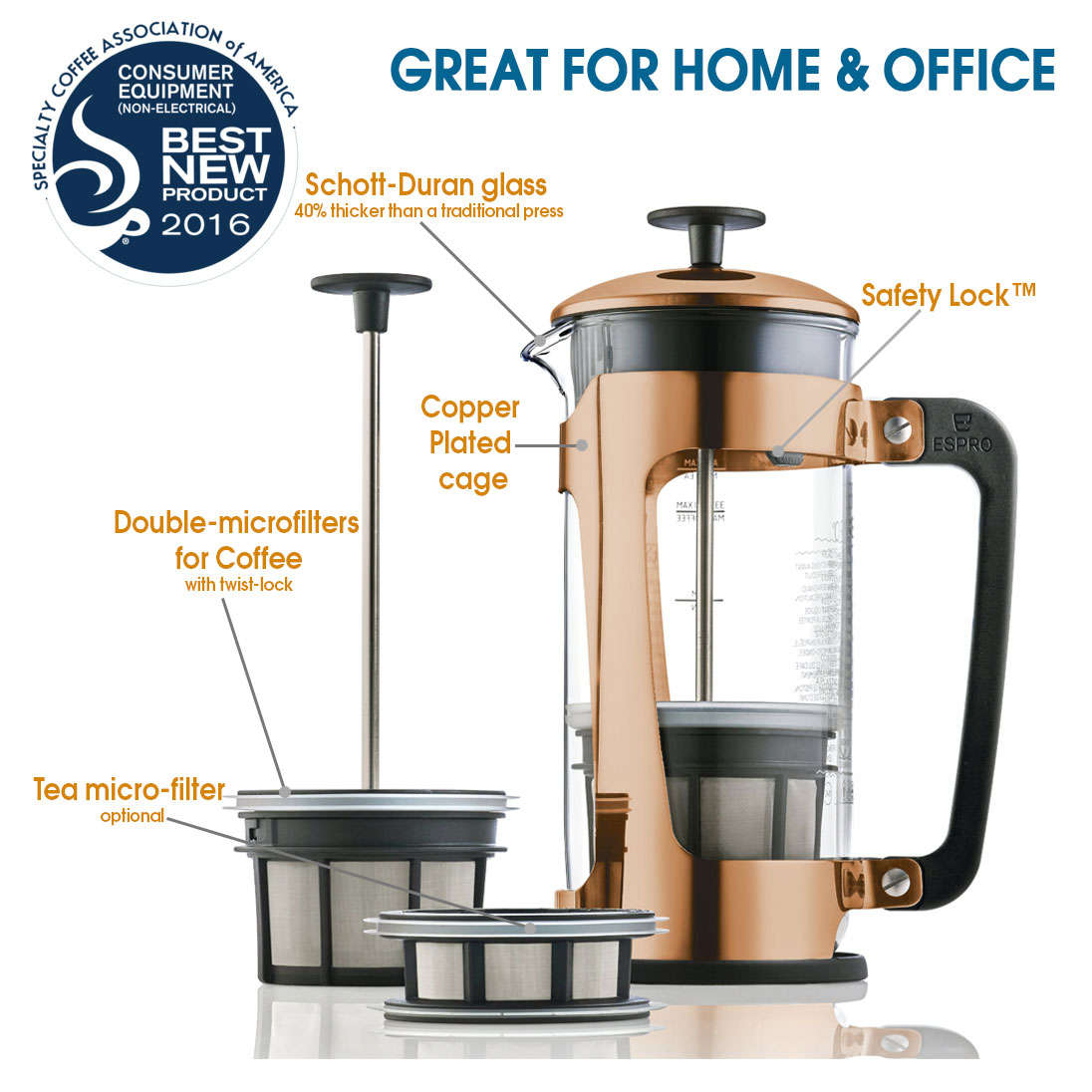 2016 BEST NEW PRODUCT WINNER - Espro Press P5 was named the Best New Piece of Consumer Equipment (non-electrical) 2016 by Specialty Coffee Association of America (SCAA) and WorldTeaExpo 2016 new Product Award winner.
THICK & DURABLE GLASS - Beautifully crafted glass carafe made from German Schott-Duran glass that is 40 percent thicker than French Press carafe glass.
ESPRO's PATENTED FILTER - Choice between a double Coffee micro-filter (french press coffee) or paper filter. Mesh filters provide French Press-style coffee and paper filters give you delicious pour-over or drip style coffee with reduced cholesterol levels (paper filters absorb coffee oils). Double-tea microfilter automatically sweeps tea leaves into an isolated chamber when done brewing.
FREE BONUS - Beautiful 8.5" long handmade wooden stirring spoon. The Espro Press P5 also makes a great gift that keeps on giving. Included with your purchase of this French Press Coffee Maker is the perfect, free accompaniment--a beautifully crafted wooden spoon.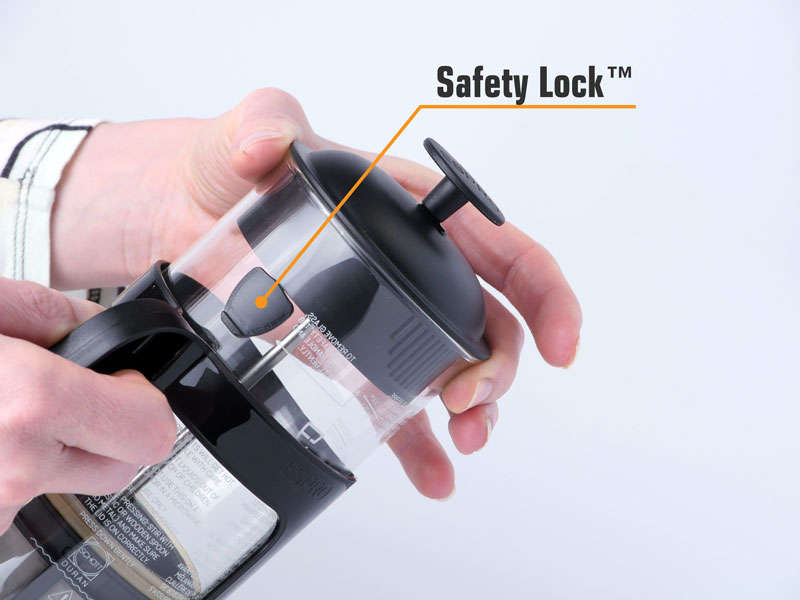 P5 Unique Feature: Safety Lock™ completely secures the glass carafe inside the cage
The
Espro's
patent-pending Safety Lock™ keeps the glass carafe safely inside the stainless steel cage; no slippage while pouring. It is a cut above the old, option-less, delicate french press models of the past.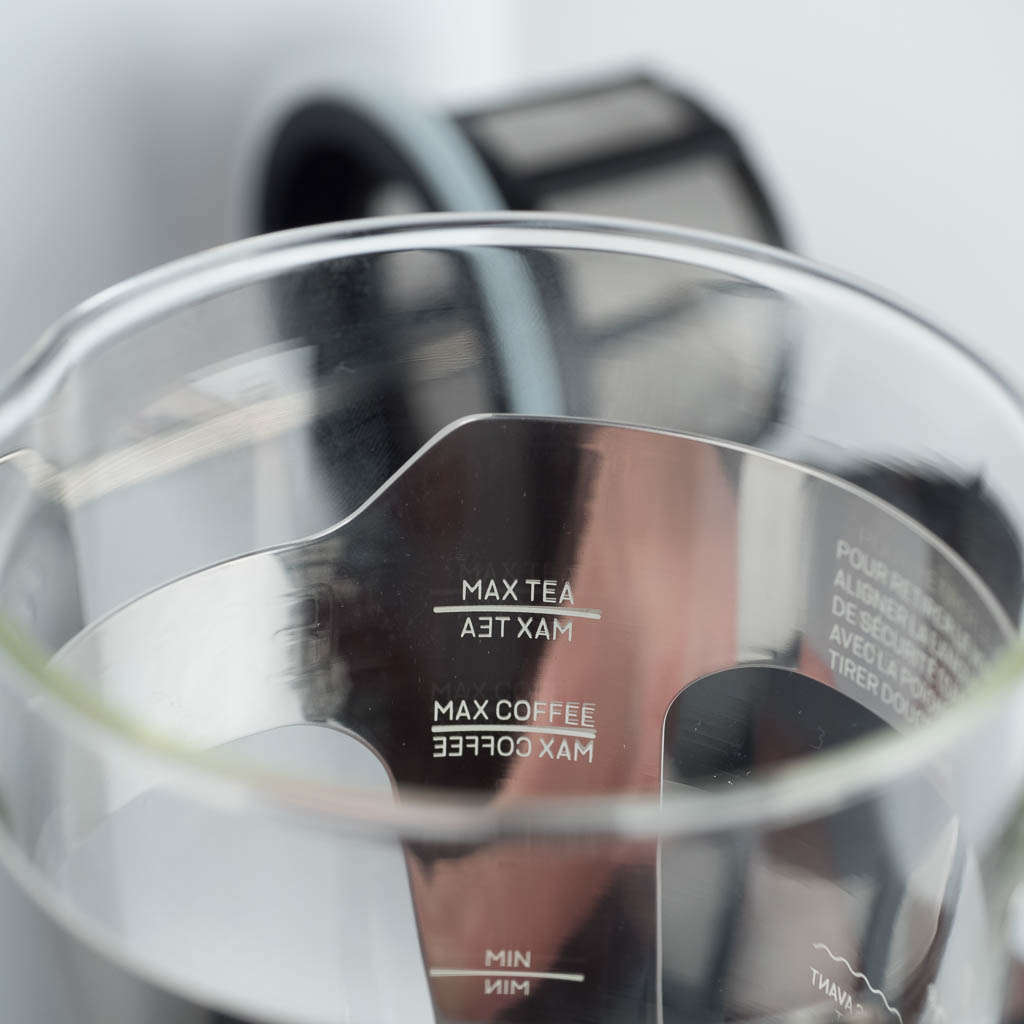 The Espro Press P5 (with Thick & Durable SCHOTT Duran glass) is safer and easier to use than any other French Press Coffee Maker.
Espro Replacement Glass Carafe for
Espro
P3, P5 made in the Schott-Duran factory in Germany, with very high standards and strict quality controls.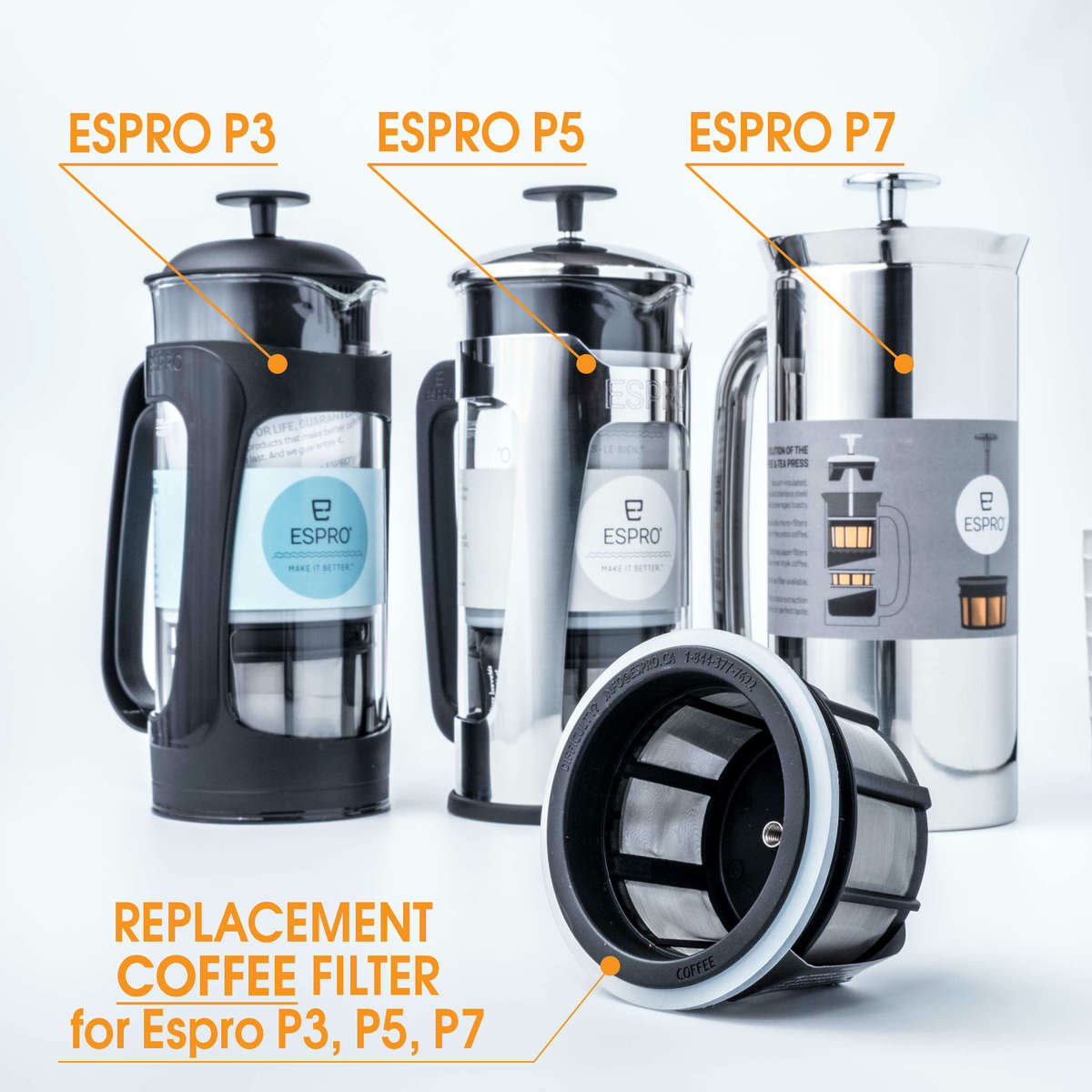 The Espro P5 Glass Press offers a never before designed unique coffee plunger feature -- a superior filtering system with not one but two micro-filters.
These filters will allow you to brew the perfect cup of coffee or tea. Image a cup of coffee brewed to your very own specifications, no more unwanted grit. Well designed Espro's Patented dual mocro-filters which are easy to use and allow you to brew your coffee without fear of grit ruining your favorite morning ritual.
The Espro P5 delivers the best cup of tea available; the filters push the tea leaves downward into a closed, isolated compartment; brewing stops automatically.
ESPRO P3 vs P5 vs P7 vs TRAVEL
If you're set on the benefits of an Espro Press you still need to decide which model is right for you. The brand offers a number of different types each with different features and benefits.
View GUIDE to learn about ESPRO PRESS
Espro P5 - Glass French Press, Stainless Steel Cage
Accessories and Replacements for Espro P5
QUICK FRENCH PRESS COFFEE:
SIGN UP AND GET 5% OFF TODAY
SIGN UP TO OUR NEWSLETTER - GET 5% OFF* TODAY. HURRY, LIMITED TIME OFFER!