Baratza Sette 270 Review
Baratza Sette 270 Review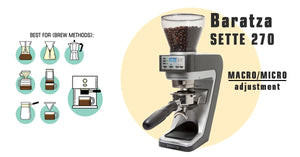 The year 2020 has changed the game of craft coffee entirely. Instead of going out for our daily cappuccinos, a lot of us have chosen to stay home and become our own baristas. If you have begun to embrace the world of at-home coffee brewing, there are certain things you may miss.
Do you miss the smooth crema of a shot from an espresso machine, or the high-powered coffee grinders that ground your coffee to perfection? Well, Baratza seems to have found solutions for these problems with their Sette series. The Baratza Sette 270 Espresso Grinder functions at restaurant-grade quality with an at-home price tag.
We at French Press Coffee love the Baratza Sette Series, and the Sette 270 is no exception for us. Here is a Baratza Sette 270 review of our experience using this grinder, and everything in between that you need to know when searching for your perfect at-home grinder. 
pinimg.com
How the Baratza Sette 270 Works
The Baratza Sette 270 coffee grinder is the second grinder in the Sette series, following the Baratza Sette 30. This grinder is high-powered and uses advanced technology to ensure that your coffee experience at home is up to par with what you may miss from your favorite coffee shop.
The Baratza 270 is an espresso grinder. All of its different settings allow you to fine tune your espresso shots every time, or program up to three grind settings for repeated use. Although it is an espresso grinder, you can also use it for brewers with fine to medium grind sizes like an Aeropress, V60, or Chemex. 
270 Grind Settings
The Baratza Sette 30 gets its name from the number of grind settings it offers, and the Baratza 270 is no different! It may be hard to believe at first, but you'll have exactly 270 different grind settings to choose from with this grinder. How does that work, you ask?
Well, on the front knob of the grinder you'll see the numbers 1 through 30, which range from fine to manual brew (or medium grind). These are going to be your macro adjustments. Within each of these macro settings, you'll find 9 different notches, or micro settings. These help you really fine tune your dosage to your exact needs. 
For example, let's say that I discovered my favorite coffee beans pull a delicious espresso shot at setting number two on my Baratza 270. But, the beans are now a week old and seem to be pulling a shot that doesn't taste as good as it did last week.
There could be many factors to this, but one thing I can adjust is the micro settings within setting number two. With a few small tweaks, my espresso shot is back to perfection! This is something I wouldn't have been able to do with another grinder, even the Baratza Sette 30. 
Digital Control Panel
If you're like me, you may stumble out to the kitchen in the early morning hours to prepare your first cup of coffee for the day. Sometimes I even have to do this before the sun rises. The LED digital control screen on the front of the Baratza 270 helps if I want to spare my eyes as they adjust to the morning light.
This control panel is easy to read and simple to use. This is where you'll adjust your grind time, press start and stop, and even program up to three grind settings. 
Programmable Dosing
Some of us (myself included) are creatures of habit. We may have our preferred method of brewing, our reliable coffee beans of choice, and even our favorite time of day to brew coffee. With the programmable dosing settings on this grinder, it feels like Baratza almost had us creatures of habit on the forefront of their minds.
This feature allows you to set up to three grinding doses that you can come back to whenever you want, depending on your preferred coffee or brewing method. You may have a setting that you turn to for Aeropress, and another you love on those mornings when you're craving the boldness of an espresso shot.
Zero Spills
Oftentimes when removing a hopper in order to clean a grinder, you'll find it hard to not spill beans or make a mess in the process. The Baratza 270's hopper door feature can help with this. When it's time to remove the hopper for cleaning or replacing your beans, the hopper door will rotate and close while you remove it from the grinder. This way, you'll have almost zero spills! 
Advanced Burr Technology
Baratza does it again. Their 40mm conical burrs are made from durable steel, which means they'll surely last a long time. The burrs work by rotation, with the outer burr rotating around the central burr.
This new change in cone burr grinding helps facilitate a cleaner, more precise grind. It also ensures that fewer coffee grounds will get stuck in between the burrs, which leads to less coffee waste overall!
Size, Aesthetic, and Price
The Baratza Sette 270 is certainly large and very much in charge. It weighs 7 lbs and stands at just above 15 inches tall. Although this may take up a good bit of countertop space, it is at least very easy on the eyes. The 270 uses an industrial aesthetic, with a combination of stainless steel and matte black finishing.
You'll spend $399 on the Baratza Sette 270. But when you order from French Press Coffee, you'll also receive no hassle returns, incredible customer service, and free shipping on any domestic orders.
Pros and Cons of the Baratza Sette 270
Pros 
-We love how easy it is to set your grind.
-It never overheats.
-The grind size is so precise with espresso to manual brew.
Cons
-It is very, very loud. Sorry, roommates.
-The pricetag may be high for some.
Sette 270 vs Sette 30
The biggest difference between the Baratza Sette 270 and the Sette 30 is the grind range, which is obvious from the name. The Sette 270 comes with 30 macro settings and 9 micro settings within each macro, giving it a total of 270. The Sette 30 grinder only comes with the 30 macro settings.
Both grinders are intended to be used for espresso or medium-grind brewing methods, such as a v60 or Aeropress. They also both use newer, more advanced burr grinding technology with outer-rotating burrs. This gives both grinders a step above most other brands. You'll also find the hopper door feature on both grinders.
The other major difference is going to be the price point. You can get the Baratza Sette 30 for $299.95, and the Baratza 270 for $399.95. The Sette 30 may be more realistic for some coffee users.