Review of the Hario Skerton Plus Manual Hand Grinder
Review of the Hario Skerton Plus Manual Hand Grinder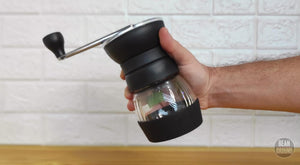 It features durable ceramic burrs, an inventive stabilizing plate, consistent grind design, and many other features that help you create the best home brewer experience.
We've put together a comprehensive review of the Hario Skerton Hand Grinder so that you can decide for yourself whether or not this is a purchase you need to make. 
Features of the Hario Skerton Plus Manual Hand Coffee Grinder
The Hario Skerton manual coffee grinder comes with a ton of helpful features. The grinder itself is similar to the Hario Skerton Pro, but its features are updated to improve your coffee drinking experience.
Durable Ceramic Burrs
Burr grinders are the most accurate, efficient, and reliable type of coffee grinder. When you choose coffee grinding gear, know the difference between burr and blade grinders.
Blade grinders are exactly what they sound like. They are made with two or three rotating blades that you'd find in a blender or nutribullet. These grinders are quick, but they are inconsistent. 
When you use a blade to grind your coffee, your grounds will come out different sizes. This is difficult for making coffee with a french press or pour over because these work best with a consistent grind.
Burr grinders, on the other hand, are designed with accuracy in mind. They are almost always more expensive than blade grinders, but they're worth the price. Burr grinders either come with ceramic or steel burrs.
The Hario Plus grinder comes with ceramic burrs. They're extremely durable and will last a long time. Burrs grind coffee beans by crushing together to achieve an extremely accurate grind size.
Another component of burr grinders is that they don't wear down easily over time. Blade grinders will lose their edge fairly quickly.
Bottom Glass Bowl
The bottom glass bowl of the Hario Skerton Plus holds 100 grams of coffee grounds. This is helpful for brewing large pots of coffee as well as smaller, individual brewing methods. 
The glass is extremely durable. The bottom bowl comes apart from the top piece, which makes it easy to clean and dry. If you want to take the Hario Skerton with you while you travel, you can take the pieces apart easily.
Burr Stabilization Plate
Burrs are already excellent for grind consistency. But with the Hario burr stabilizing plate, the burrs are held tightly in place for even more accuracy. 
This helps the center shaft stay in place while you grind your coffee beans. The grind setting consistency is new and improved with the Hario Plus.
Detachable Crank Handle
The Hario handle is durable and easy to use. It helps you quickly and easily grind coffee and use grind adjustments to make the perfect cup of coffee.
It is removable, making the Hario a great portable coffee grinder. You can remove the handle when you are on the go, ensuring that the handle will never get bent or break while you travel.
Non Slip Rubber Base
The non slip rubber base keeps the grinder from slipping while you're using it. This helps you not drop the grinder while you're grinding it, making it extremely easy to use!
Hario Skerton Plus vs Lido 3 Hand Grinder
Both the Hario Skerton Plus and the Lido 3 Hand Grinder are excellent manual hand grinders to take on the road. They are both extremely portable and great for travel, and they provide great grind setting consistency.
The Lido 3 is $195, and the Hario Skerton is only $49.99. The Lido 3 has more range in grind size and is overall a bit nicer quality.
That being said, the Hario Skerton is incredibly nice for the price point, and is definitely the best hand grinder in that specific price range.
Conclusion: The Hario Skerton Plus is a Great Choice
The Hario Skerton Hand Grinder is an excellent manual grinder and absolutely worth every penny. If you're new to the craft coffee scene, and you aren't ready to splurge on something like the Lido 3 just yet, this is a great choice. 
You'll be impressed by the grind settings, accuracy, and how easy it is to use. If you're ready to purchase yours now, head on over to our store.