Baratza Sette 270wi Espresso Grinder Review
Baratza Sette 270wi Espresso Grinder Review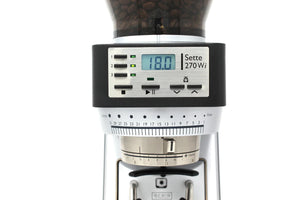 I never thought I'd be at a point in my life where I was picking out at-home espresso machines and grinders for my morning coffee. I've always been a coffee shop enthusiast, making a visit to my local cafe almost every single day. 
But after a year like 2020, I'm realizing more and more that we really can brew craft coffee right in our kitchens, and save a ton of money in the process. All while being safe and comfortable in our own homes. 
If you're in the market for an at-home espresso grinder to complete your brewing process, you may want to read about the Baratza Sette 270wi Espresso Grinder. This grinder is restaurant-grade at an at-home price, and we here at French Press Coffee believe this grinder is one of the best on the market. 
This is our comprehensive review of what the Sette 270wi offers, what it's like using this grinder, and everything else you need to know before adding one to your at-home brewing routine.
How the Baratza Sette 270wi works
Baratza is one of the leading at-home brewing companies on the market today, and it's one we personally love and use as often as possible. You may be familiar with products such as the Baratza Encore or the Baratza Virtuoso, two very popular coffee grinders that are versatile and perfect for beginner brewers.
The Baratza Sette 270wi is the third installment in a three-part grinder series: the Baratza Sette Series. Before the 270wi you had the Sette 30 and the Sette 270w.
The main difference between the Sette 30 and the Sette 270w is the amount of grind settings to choose from. But the difference between the Sette 270w and the 270wi is the innovative intelligence of Baratza's newest grinder. 
The Smartest Grinder on the Market 
The Baratza Sette 270wi is so "smart" that you can use bluetooth to connect any of your smart devices straight to the grinder. From there, you can automatically set it to update software, as well as track grind settings, weight, dosages, etc. This feature makes coffee brewing as simple and quick as possible. 
The "Intelligence" of the Grind-by-Weight System
Baratza really is changing the game of at-home grinding, which is one of the reasons I was most excited to try out the Baratza Sette series. The Sette 270wi uses an innovative Acaia-Scale technology, which is essentially an internal "smart" scale system.
The Acaia scale allows you to grind by weight and program your favorite settings, which is a perfect feature for fine, precise espresso grinds. You can then connect your phone to track your doses. 
This feature may not be as necessary for those who are grinding coffee for a V60 or an Aeropress, where precision isn't as important. But for dialing in an espresso shot, where anything from the coffee beans to the temperature of the room could affect the dose, it's crucial to have as much precision as possible in your grinding system. That's why the Sette 270wi is one of the best grinders for at-home espresso enthusiasts.
Grind Settings-Are There Really That Many?!
It may be hard to believe that the Baratza 270wi actually has 270 different grind settings. I know when I first heard about it, I was a bit skeptical myself. But after experiencing it firsthand, I'm now a Sette 270wi believer and enthusiast. 
Baratza actually first unveiled its enormous range of grind size with the Sette 270w, followed then by the Sette 270wi. Both grinders use a micro and macro grind adjustment system, which is what puts them a step above the rest. 
In the Baratza Sette 30, you'll find 30 different "macro" adjustments. These are great for adjusting your grind to fit different types of brewers, such as a drip brewer or Aeropress. With the Sette 270w and 270wi, Baratza continued using 30 macro adjustments with the addition of 9 micro adjustments between each macro step. 
Confused yet? Let's break it down further! On one side of the grinder, you can choose from 1 to 30, which range from fine to medium grind. Once you've selected a number, you can then move to the other setting on the grinder, which will allow you to narrow in even further.
So if I want to brew some espresso, I may go with setting number three under the macro adjustments. Once I've selected number three, I now have nine different micro adjustments to make within this setting to fine-tune my espresso shot to perfection! It may take some getting used to, but this feature makes a huge difference in your brewing process. 
And again, this is where the bluetooth intelligent capabilities come in handy. You can record and log any settings you may use more than once so that you'll have them stored in the grinder for repeated use. 
A Zero-Waste Grinder
There are a couple features of the Sette 270wi that help eliminate coffee waste. One of the most impactful features is the use of 40 mm Etzinger Burrs, which function a little bit differently than some of the burr systems we are used to with Baratza.
In Baratza grinders like the Encore and Virtuoso, you'll find a conical burr system that works as multiple grinders pushing together as beans fall through. The rate at which these burrs grind together, along with the space allowed in between, is what adjusts the size of the coffee grind.
With the Baratza Sette series, we are introduced to the Etzinger burrs. These steel burrs function by having one burr in the center and another that actually rotates around it. This creates more accuracy, and also produces much less waste, as fewer coffee beans are able to fall through and get stuck in the grinder. 
Another feature that helps control coffee waste is the hopper stopper. This door can be flipped up when you're removing the hopper for cleaning or switching out beans, which stops the beans from spilling all over the counter. 
Convertible Device Holder
If you're using your Sette 270wi for espresso, you can grind directly into the portafilter using the holding arms. You can also easily remove the holding arms in order to fit a larger canister (like the supplied grounds bin from Baratza) underneath for saving your coffee grounds. 
Size, Aesthetic, and Price
Both the Baratza Sette 270w and the Sette 270wi stand loud and proud. They weigh 7 lbs and stand at about 15 inches tall. This is something to consider if you're trying to fit it in a tiny kitchen. If you have the room on your countertops though, this grinder is well worth the space. 
The Sette 270wi looks almost identical to the Sette 270, with matte black and stainless steel finishes. This diversity helps make the grinder extremely versatile for any kitchen or cafe aesthetic. Because of the grind-by-weight feature and bluetooth capabilities, the Sette 270wi is the most expensive in the Sette series. You can purchase this grinder from us at French Press Coffee for $549.
Pros and Cons
Pros of the Sette 270wi
-The smart technology is hard to come by at this affordable price.
-This grinder's precision for espresso is incomparable.
-Baratza has fine-tuned this grinder to fix common glitches such as overheating and too much grinding noise.
Cons of the Sette 270wi
-It may not be worth it if you aren't using it for espresso.
-May be too expensive for some
Baratza Sette 270wi vs Sette 270w
Both the Baratza Sette 270wi and the Sette 270w look and feel exactly the same. They weigh the same amount and have the same aesthetic. 
The major difference between these two grinders is the "smart" technology of the weight based dosing system and bluetooth capabilities. This is also the difference that explains the price jump from $399 for the 270w to $539 for the 270wi. Both grinders have 270 grind settings to choose from and are excellent for fine-tuning espresso.