Espro Press, Travel French Press, 12 oz with Coffee Filter
Espro Press, Travel French Press, 12 oz with Coffee Filter
FREE FRENCH PRESS INSURANCE (EXCLUSIVE)
IF YOUR FRENCH PRESS IS BROKEN, WE'LL GIVE YOU 50% STORE CREDIT


FREE 1 YEAR FRENCH PRESS INSURANCE* AGAINST ACCIDENTAL BREAK
FREE* U.S. SHIPPING ON ORDERS $35+, FREE RETURNS
NO HASSLE 45 DAYS RETURNS, NO SALES TAX*
PRICE MATCH & 100% SATISFACTION GUARANTEED
100% U.S. Based Customer Service. Contact us.
WORLDWIDE SHIPPING
Travel Press
I travel for a living and this is perfect for my carry-on and want to packing lite and take with me the essentials. Recommend highly.
Hello Kevin! Thank you for your feedback. We are appreciate it very much. All the best, FrenchPressCoffee.com
Wonderful product
This is my second time ordering from frenchpresscoffee, and I could not be more satisfied. These travel mugs are amazing and help me take my coffee or tea on the go to work with no spills or wait time. I purchased a few more to give out as gifts this year, and Igor helped me out with one color that was on back-order that I was looking for. Thank you again so much!
Great
I can carry coffee around without hassle
Hello Jiyoon! Thank you for your feedback, we are appreciate it. Enjoy your coffee, FrenchPressCoffee.com
Espro Travel Press (3 in 1 Coffee Travel Mug, French Press and Tumbler)
The Espro Travel Press is for people who love coffee and tea, and want to take it with them anywhere.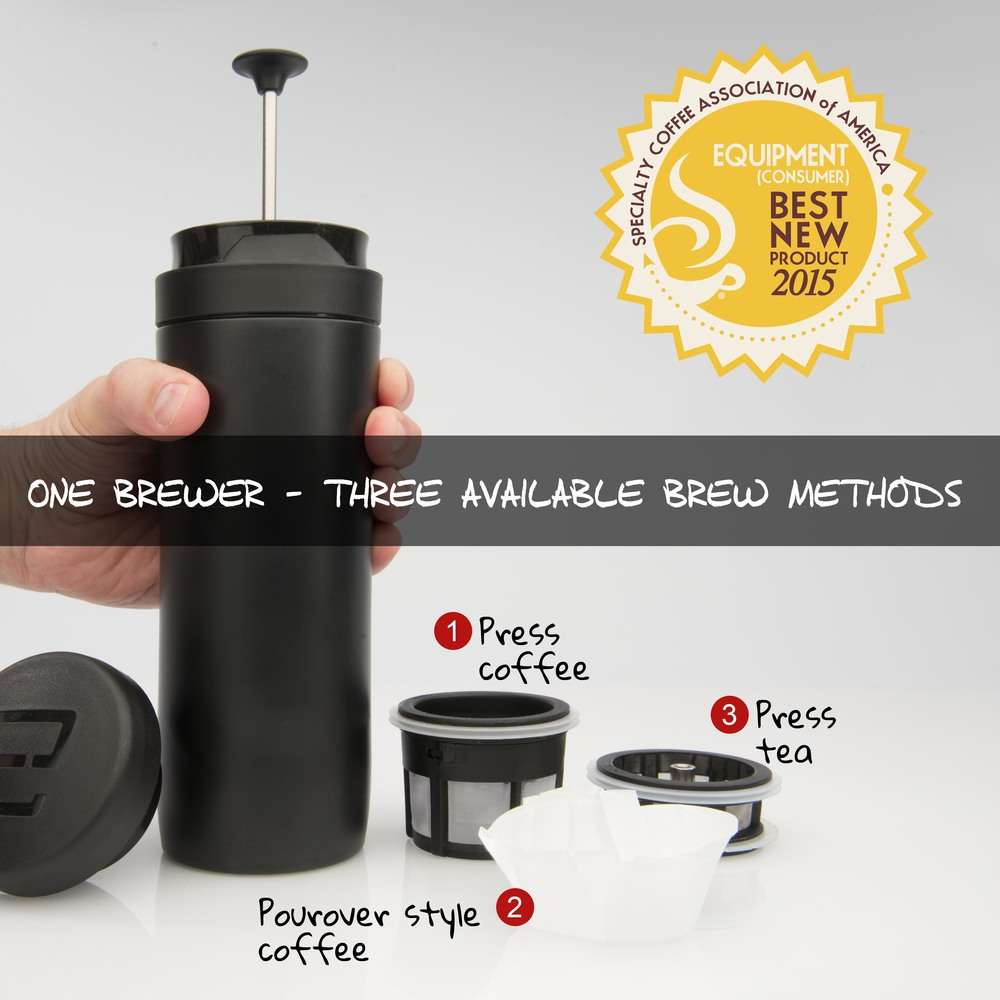 In addition to its ultra-clean method of brewing sludge-free coffee, you'll also enjoy these great features:
Double-walled, vacuum-insulated stainless steel container to keep your coffee fresh and hot
A patented brewing system incorporating a paper filter placed between two press filters that removes grit and absorbs flavor-suppressing oils
Light yet durable enough to carry anywhere as a Travel mug - the ESPRO Travel Press is a true survivor!
Loose leaf tea lovers rejoice - ESPRO Travel Press provides delicious loose leaf tea brewed to perfection
Keeps your coffee or tea hot for up to 8 hours no matter where you are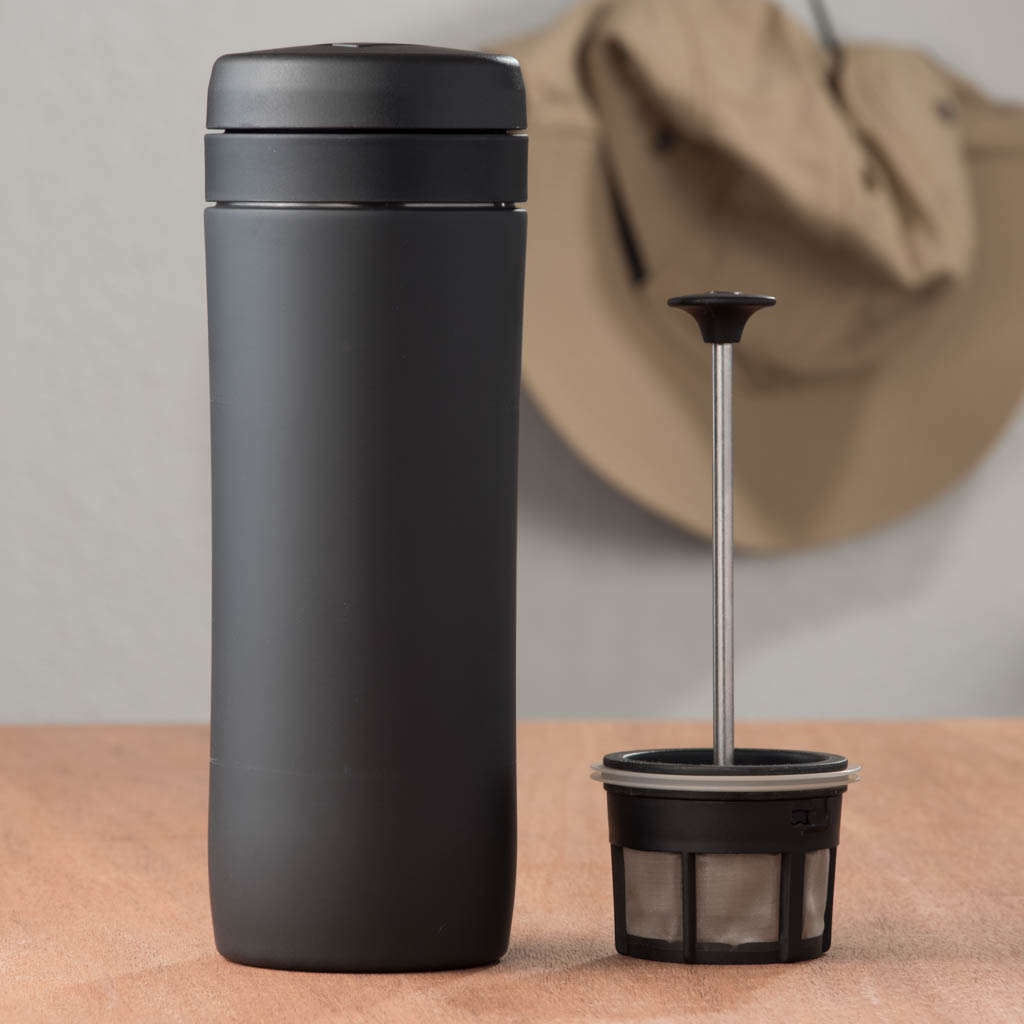 It's all about convenience and satisfaction - and the ESPRO Travel Press has got it covered!
Available in multiple colors
Makes 10oz coffee, 12oz tea
Holds 15oz as a travel mug
Hot for hours
Filters are BPA, BPS and phthalate free
Stainless steel container, double-walled, vacuum-insulated
Patented and patents pending globally
No nonsense 1-year warranty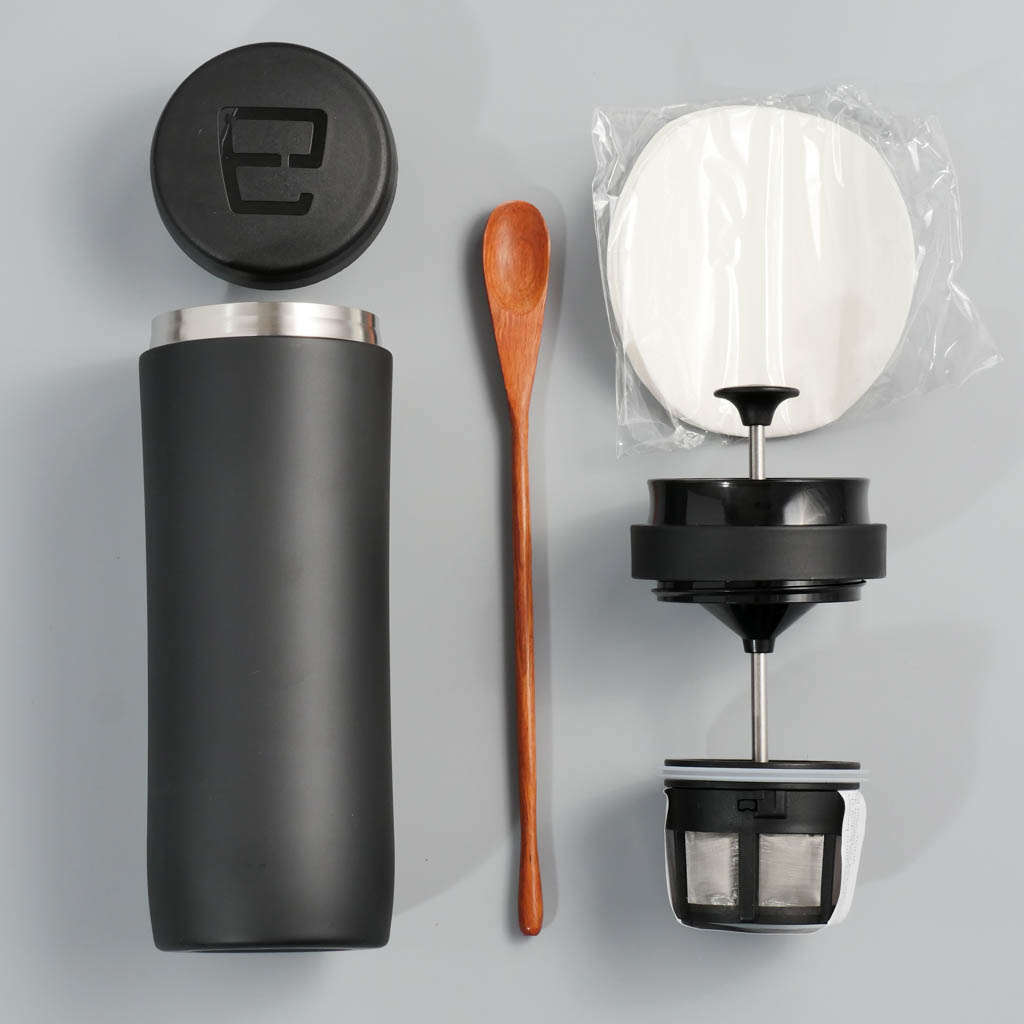 Coffee Travel Mug: Espro Travel Press
Coffee Microfilters
25 Paper Filters (Starter pack)
EXCLUSIVE: Handmade wooden stirring spoon
Espro Travel Press - Make Coffee on the Go
HOW TO BREW WITH ESPRO TRAVEL PRESS
1. Install filter by screwing onto rod. Use both filters.
2. Add 3-4 tbsp/15-20 g coarse-ground coffee
3. Add hot water to 'MAX COFFEE' line and stir
4. Cover with filters. Twist drinking lid on to seal.
5, Wait 4 minutes.
6. Press down slowly. Twist travel lid in place.


If you love the clean, oil-free flavor of pour-over coffee, ESPRO includes paper filters that pair with the Travel Press's coffee filters.* After step 1 above, follow steps 1A-1C below to insert a paper filter, then continue to step 2.


1A. Separate filters with a twist.
1B. Place paper filter between micro-filters.
1C. Lock filters together then pre-wet filter set
Continue with step 2 above.
*Paper filters don't work with the tea filters
3-1, Insulated Travel Coffee Mug, Travel French Press & Tumbler
QUICK FRENCH PRESS COFFEE:
SIGN UP AND GET 5% OFF TODAY
SIGN UP TO OUR NEWSLETTER - GET 5% OFF* TODAY. HURRY, LIMITED TIME OFFER!