Bamboo Coffee Paddle for Stirring and Emptying Coffee in a French Press, Syphon, Cold Brew, Chemex
Bamboo Coffee Paddle for Stirring and Emptying Coffee in a French Press, Syphon, Cold Brew, Chemex
Hurry, take advantage of your limited time offer.
ENJOY 5% OFF* STOREWIDE with coupon "FP5".
discount will be automatically applied on the price of the qualifying product as you checkout
*brands are excluded: Baratza
FREE* U.S. SHIPPING ON ORDERS $49+
NO HASSLE 45 DAYS RETURNS
NO SALES TAX*
PRICE MATCH & 100% SATISFACTION GUARANTEED
100% U.S. Based Customer Service. Contact us or call (505) 750-1144
WORLDWIDE SHIPPING
Excellent Product
Was using a long handled metal spoon to clean out the used coffee grinds from my French press. The bamboo paddle did a significantly better job making the clean up faster and more efficient as the vast majority of grinds were easily removed compared to the spoon. A must have!
Dear Jeffery! Thank you for your feedback. We are appreciate it very much. All the best, FrenchPressCoffee.com
Review of the Bamboo Coffee Paddle (and coincidentally the Organic Espresso Strata Coffee Beans)
Dear Rick! Thank you for your feedback. We are appreciate it very much. All the best, FrenchPressCoffee.com
Free Bamboo Tool
i just had to pay shipping for $4.70 and got a $6 tool
Bamboo Paddle
I received my paddle and haven't had the chance to use it yet but I will. It states to use mineral oil to resurface it but didn't see any in the order. I suppose I need to buy some mineral oil before I use it.
Hello Teresa! Thank-you for your order. I just want to follow up and let you know that the paddle already is pre-sanded and coated with mineral oil. You don't need to do anything for a few months. But over time you might need to apply mineral oil (the same as you would use for butcher blocks). All the best, Igor
Handy Tool
This handy little tool works great for its purpose, especially that it won't chip or damage glass while stirring your brew. It's a must-have for the home barista.
Dear Scott! Thank you for your feedback. We are appreciate it very much. All the best, FrenchPressCoffee.com
BOGO and they are FANTASTIC!
Very economical, renewable resource, looks nice for daily use (get the other one for company when making press pots or aerobie when you need to stir as part of the process), and is VERY functional and easy to keep clean if you just rinse it after every use and then wipe dry. I marked one of mine for coffee and one for tea so I don't mix them up. Get them while on sale at buy one get one FREE before everybody catches on. ENJOY!
KEEP YOUR GLASS, COPPER, CERAMIC, OR STAINLESS STEEL COFFEE AND TEA MAKER SAFE
The Bamboo Stirrer for Coffee Grounds is soft enough to not scratch or crack your French Press, Hario Syphon, Chemex, Glass Carafe, Pour Over, Glass Coffee Maker, Copper Coffee Maker, Polished Stainless Steel Coffee Maker, Cold Brew Coffee Maker, and others.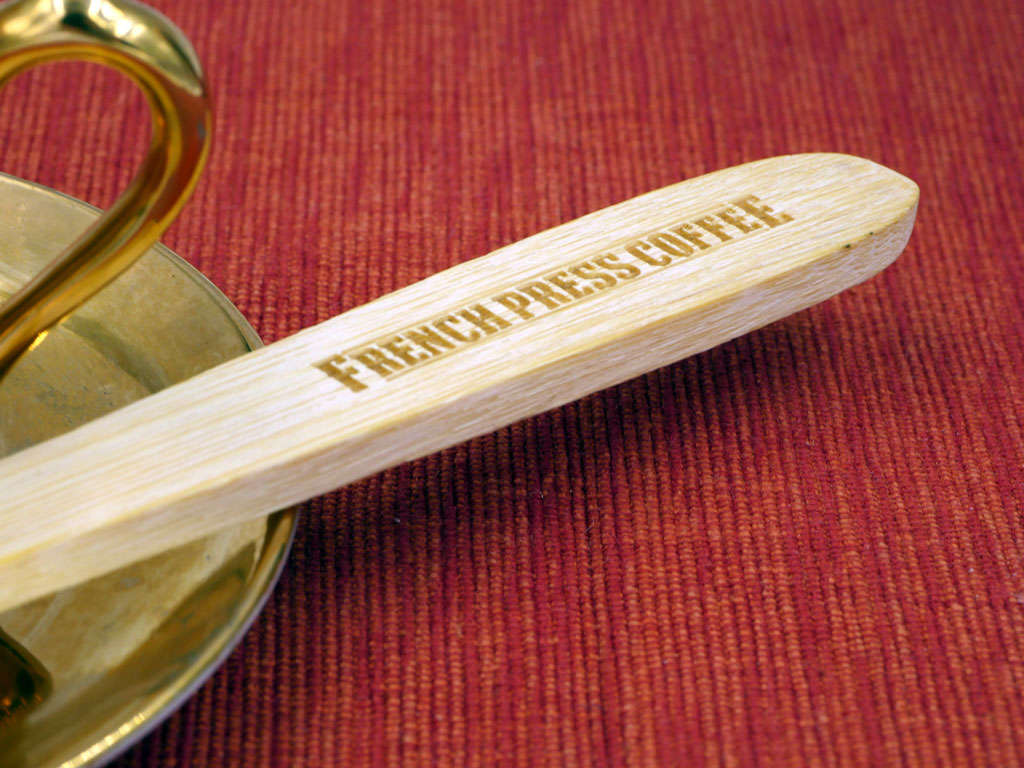 Bamboo is a natural, eco-friendly material that makes an excellent stirrer for coffee, tea, and other drinks.
This bamboo stirrer mixes hot beverages without taking away or absorbing any heat like metal spoons or stirrers do and doesn't have the negative health impact that plastic with BPA does. Offered in a nine-inch size, this is the perfect way for coffee and tea enthusiasts to indulge in their favorite brews.
SIGN UP AND GET 5% OFF TODAY
HURRY, LIMITED TIME OFFER* FIRST TIME CUSTOMERS ONLY!