Coffee Gifts For Coffee Lovers - Personalized Coffee Beans (10 oz.)
Coffee Gifts For Coffee Lovers - Personalized Coffee Beans (10 oz.)
WHY SHOP WITH US at FRENCHPRESSCOFFEE.com
FREE FRENCH PRESS INSURANCE (EXCLUSIVE)
IF YOUR FRENCH PRESS IS BROKEN, WE'LL GIVE YOU 50% STORE CREDIT


FREE 1 YEAR FRENCH PRESS INSURANCE* AGAINST ACCIDENTAL BREAK
FREE* U.S. SHIPPING ON ORDERS $35+, FREE RETURNS
NO HASSLE 45 DAYS RETURNS, NO SALES TAX*
PRICE MATCH & 100% SATISFACTION GUARANTEED
100% U.S. Based Customer Service. Contact us.
WORLDWIDE SHIPPING
PERSONALIZED COFFEE GIFT FOR COFFEE LOVERS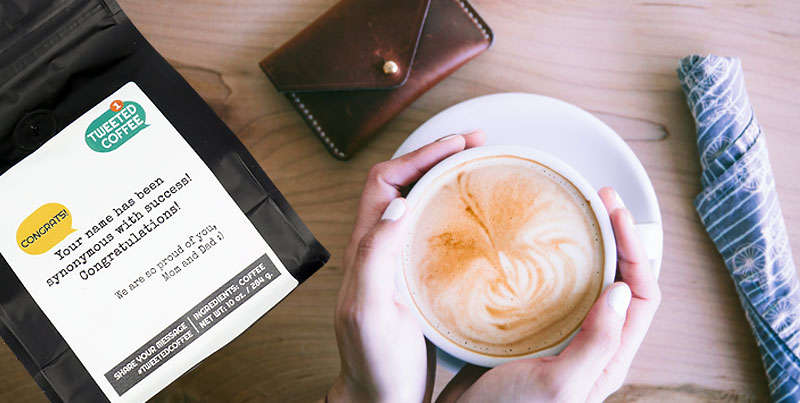 The best part of your Personalized Coffee Gift is that those you gift it to will remember it every time they pull out their bag for another freshly brewed cup and see your message.
It's the perfect way to remind those in your life how much they truly mean to you, even if they're hundreds or thousands of miles away, they'll get a brand new personalized coffee gift straight to their doorstep.
#Balanced Blend - Sweet and Balanced
Registering on the darker side of the roasting level, Tweeted Coffee's #Balanced Blend has a sophisticated profile for the coffee connoisseur. Known as a more "rice and beans" coffee variation, mixing both medium and dark roasts, this blend sustains the fruity flavors of a light roast with the deep toasted caramel taste of a dark roast. The perfect balance between the two. Each sip of this brew offers textured, full flavor with a more medium body and even acidity.

#Strong Blend - Smoky and Smooth
Our #Strong Blend is a dark French Roast with a smoky and robust taste. The optimal mix of several varieties of Central and South American beans contributes to it's rich brown color. Each bean in the #Strong Blend has been roasted to the end of the second crack, bringing its natural oil to its exterior which gives off a stronger, more chocolate scented smell. It's equally full-bodied taste matches the lush smell of this coffee.

#Robust Blend - Full-Bodied and Earthy
Tweeted Coffee's most intense roast, the #Robust Blend is for black or dark coffee lovers. This is the brew to get you going at any time of day. Despite it's deep and powerful kick, our #Robust Blend lacks the bitter acidity of similar dark roasts. Instead you get a deep and deliciously full-bodied, earthy, and robust coffee to enjoy whenever you need a boost.


Great coffee, cool gift idea. I totally recommend this coffee gift.
SIGN UP AND GET 5% OFF TODAY
HURRY, LIMITED TIME OFFER* FIRST TIME CUSTOMERS ONLY!