{"id":225083260957,"title":"Frieling USA Double Wall Stainless Steel French Press Coffee Maker with Dual Screen","handle":"frieling-usa-french-press","description":"\u003cblockquote\u003e\u003cem\u003e\u003cstrong\u003eFor exceptional coffee, restaurant-worthy coffee the Frieling USA Double Wall Stainless Steel French Press Coffee Maker brews up cup after cup of delicious, warming coffee. Bring the French Press into your home and you'll be able to enjoy tasty hot coffee that is free of those unsightly coffee grounds.\u003c\/strong\u003e\u003c\/em\u003e\u003c\/blockquote\u003e","published_at":"2015-11-27T19:21:00-07:00","created_at":"2017-10-22T12:08:36-06:00","vendor":"Frieling","type":"Coffee Press","tags":["Carafe_Stainless Steel","Features_BPA Free","Features_Dishwasher Safe","Features_Double Wall","Features_Insulated","Features_Microfilter","Material_Luxury","Material_One-of-a-kind","Material_Stainless Steel","Material_Travel","sale","Stainless Steel"],"price":7995,"price_min":7995,"price_max":12995,"available":true,"price_varies":true,"compare_at_price":null,"compare_at_price_min":0,"compare_at_price_max":0,"compare_at_price_varies":false,"variants":[{"id":3329903460381,"title":"44 oz. (Brushed)","option1":"44 oz. (Brushed)","option2":null,"option3":null,"sku":"","requires_shipping":true,"taxable":true,"featured_image":null,"available":true,"name":"Frieling USA Double Wall Stainless Steel French Press Coffee Maker with Dual Screen - 44 oz. (Brushed)","public_title":"44 oz. (Brushed)","options":["44 oz. (Brushed)"],"price":12995,"weight":1814,"compare_at_price":null,"inventory_quantity":-2,"inventory_management":null,"inventory_policy":"continue","barcode":""},{"id":3329045757981,"title":"36 oz. (Brushed)","option1":"36 oz. (Brushed)","option2":null,"option3":null,"sku":"","requires_shipping":true,"taxable":true,"featured_image":null,"available":true,"name":"Frieling USA Double Wall Stainless Steel French Press Coffee Maker with Dual Screen - 36 oz. (Brushed)","public_title":"36 oz. (Brushed)","options":["36 oz. (Brushed)"],"price":10495,"weight":1588,"compare_at_price":null,"inventory_quantity":3,"inventory_management":null,"inventory_policy":"continue","barcode":""},{"id":3329903362077,"title":"23 oz. (Brushed)","option1":"23 oz. (Brushed)","option2":null,"option3":null,"sku":"","requires_shipping":true,"taxable":true,"featured_image":null,"available":true,"name":"Frieling USA Double Wall Stainless Steel French Press Coffee Maker with Dual Screen - 23 oz. (Brushed)","public_title":"23 oz. (Brushed)","options":["23 oz. (Brushed)"],"price":9495,"weight":1588,"compare_at_price":null,"inventory_quantity":0,"inventory_management":null,"inventory_policy":"continue","barcode":""},{"id":3329903231005,"title":"17 oz. (Brushed)","option1":"17 oz. (Brushed)","option2":null,"option3":null,"sku":"","requires_shipping":true,"taxable":true,"featured_image":null,"available":true,"name":"Frieling USA Double Wall Stainless Steel French Press Coffee Maker with Dual Screen - 17 oz. (Brushed)","public_title":"17 oz. (Brushed)","options":["17 oz. (Brushed)"],"price":7995,"weight":1588,"compare_at_price":null,"inventory_quantity":0,"inventory_management":null,"inventory_policy":"continue","barcode":""},{"id":3329903951901,"title":"44 oz. (Mirror)","option1":"44 oz. (Mirror)","option2":null,"option3":null,"sku":"","requires_shipping":true,"taxable":true,"featured_image":null,"available":true,"name":"Frieling USA Double Wall Stainless Steel French Press Coffee Maker with Dual Screen - 44 oz. (Mirror)","public_title":"44 oz. (Mirror)","options":["44 oz. (Mirror)"],"price":12995,"weight":1814,"compare_at_price":null,"inventory_quantity":0,"inventory_management":null,"inventory_policy":"continue","barcode":""},{"id":3329903591453,"title":"36 oz. (Mirror)","option1":"36 oz. (Mirror)","option2":null,"option3":null,"sku":"","requires_shipping":true,"taxable":true,"featured_image":null,"available":true,"name":"Frieling USA Double Wall Stainless Steel French Press Coffee Maker with Dual Screen - 36 oz. (Mirror)","public_title":"36 oz. (Mirror)","options":["36 oz. (Mirror)"],"price":10495,"weight":1588,"compare_at_price":null,"inventory_quantity":0,"inventory_management":null,"inventory_policy":"continue","barcode":""},{"id":3329903689757,"title":"23 oz. (Mirror)","option1":"23 oz. (Mirror)","option2":null,"option3":null,"sku":"","requires_shipping":true,"taxable":true,"featured_image":null,"available":true,"name":"Frieling USA Double Wall Stainless Steel French Press Coffee Maker with Dual Screen - 23 oz. (Mirror)","public_title":"23 oz. (Mirror)","options":["23 oz. (Mirror)"],"price":9495,"weight":1588,"compare_at_price":null,"inventory_quantity":0,"inventory_management":null,"inventory_policy":"continue","barcode":""},{"id":3329903820829,"title":"17 oz. (Mirror)","option1":"17 oz. (Mirror)","option2":null,"option3":null,"sku":"","requires_shipping":true,"taxable":true,"featured_image":null,"available":true,"name":"Frieling USA Double Wall Stainless Steel French Press Coffee Maker with Dual Screen - 17 oz. (Mirror)","public_title":"17 oz. (Mirror)","options":["17 oz. (Mirror)"],"price":7995,"weight":1588,"compare_at_price":null,"inventory_quantity":0,"inventory_management":null,"inventory_policy":"continue","barcode":""}],"images":["\/\/cdn.shopify.com\/s\/files\/1\/0760\/2923\/products\/Frieling_french_press_group_polished.jpg?v=1508729058","\/\/cdn.shopify.com\/s\/files\/1\/0760\/2923\/products\/0144_french_press.jpg?v=1508729058","\/\/cdn.shopify.com\/s\/files\/1\/0760\/2923\/products\/Bruhed_vs_Polished.jpg?v=1508729058","\/\/cdn.shopify.com\/s\/files\/1\/0760\/2923\/products\/french_press_open.jpg?v=1508729058","\/\/cdn.shopify.com\/s\/files\/1\/0760\/2923\/products\/Frieling_FrenchPress_Family.jpg?v=1508729058"],"featured_image":"\/\/cdn.shopify.com\/s\/files\/1\/0760\/2923\/products\/Frieling_french_press_group_polished.jpg?v=1508729058","options":["Size \u0026 Finish"],"content":"\u003cblockquote\u003e\u003cem\u003e\u003cstrong\u003eFor exceptional coffee, restaurant-worthy coffee the Frieling USA Double Wall Stainless Steel French Press Coffee Maker brews up cup after cup of delicious, warming coffee. Bring the French Press into your home and you'll be able to enjoy tasty hot coffee that is free of those unsightly coffee grounds.\u003c\/strong\u003e\u003c\/em\u003e\u003c\/blockquote\u003e"}
Frieling USA Double Wall Stainless Steel French Press Coffee Maker with Dual Screen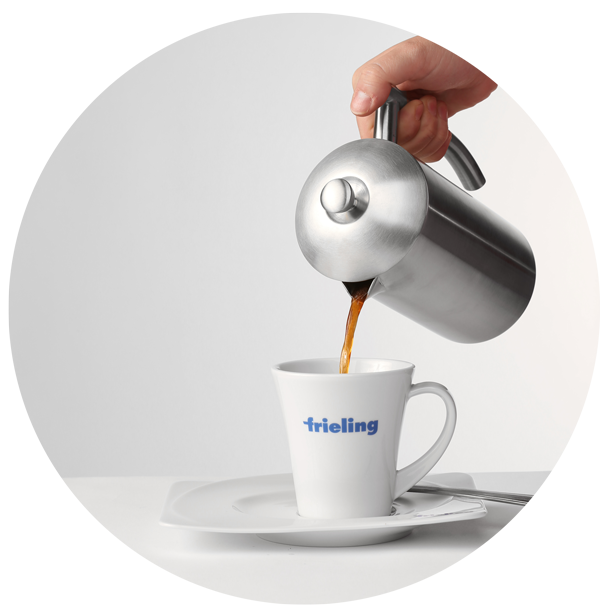 ZERO COFFEE GROUND BREWING: The Frieling difference uses a patented two-stage filtration system with a pre-filter and an Italian superfine mesh and a sturdy metal wire in the coil to firmly plunge large sediment out of your chosen beverages.
BUILT TO LAST: The durable 18/10 stainless steel of the French Press and stainless steel plunger are designed to last. The entire device is also BPA free and can be easily fixed with replacement parts if needed.
HEAT AND COLD RETENTION: Thanks to its double-walled insulation, the system keeps hot beverages hotter four times longer than traditional glass. While it is perfect for brewing up warm coffee and tea beverages, the pitcher is also great for serving cold drinks like water, milk, iced tea, juice, or iced coffee.
ELEGANT LOOK: It not only looks great on the outside with its stylish mirrored finish but the French Press' no-drip spout delivers a smooth pour without spilling and ruining your linens.
5 YEAR WARRANTY
A favorite in the best hotels and restaurants
For exceptional coffee, restaurant-worthy coffee the Frieling French Press Coffee Maker brews up cup after cup of delicious, warming coffee. Bring the French Press into your home and you'll be able to enjoy tasty hot coffee that is free of those unsightly coffee grounds.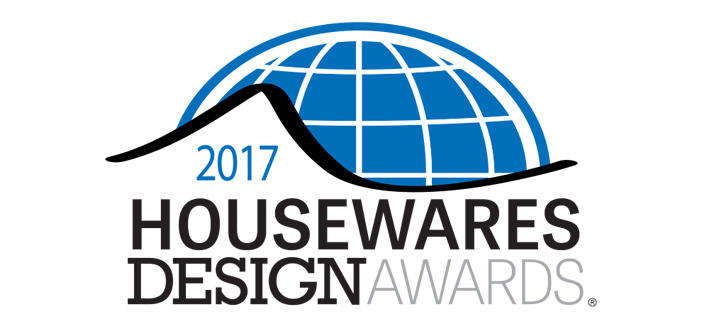 2017 Housewares Design Award Winner: Frieling USA French Press
"The concept of the French press is a very old concept, so we're very excited about the award and the acknowledgment that we answered the question of the consumer asking for a clean coffee French press, as French press coffee is known as a dirty, muddy coffee,"
Yung Lindenbeck


The consistently awarded and top-rated Frieling French Presses are a favorite of the hotel and restaurant industries. Yet the brand's selection of excellent products is available for those outside of the professional hospitality arena.
The Frieling French Presses feature beautiful mirrored and brushed outside finishes with a brushed inside.
Their elegant full-length handle is comfortable to grip. For an added bonus in clean-up, it easily disassembles for dishwasher or hand washing (disassembly not required for every cleaning).
EXTREMELY DURABLE, NO GLASS TO BREAK, 5-YEAR WARRANTY
The Frieling's Stainless Steel French Press Coffee Maker is extremely efficient at brewing warm beverages. Simply fill the press with ground coffee or tea leaves and hot water, place the lid and plunger on top and steep it for four minutes before plunging. Your drink is ready to serve within mere minutes.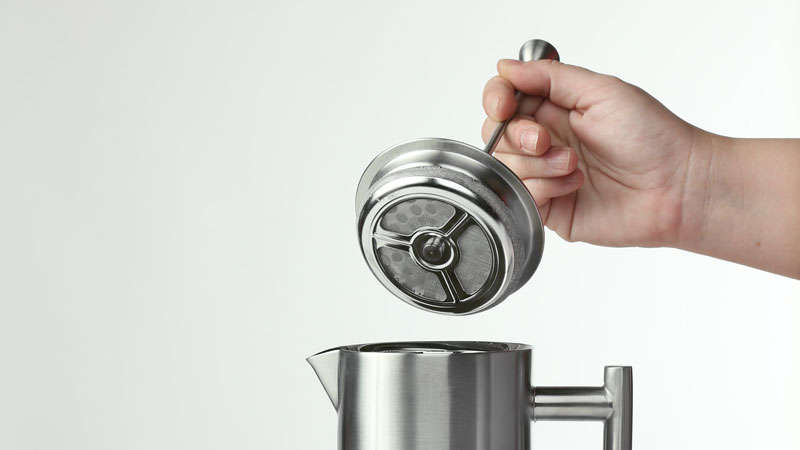 Innovative two-stage filter system uses a pre-filter and an exclusive super fine mesh filter so that each cup is ground free. The extra metal wire inside the press' coil squeezes the plunger against the inside wall with ease making quick work of coarse coffee grounds and loose tea leaves.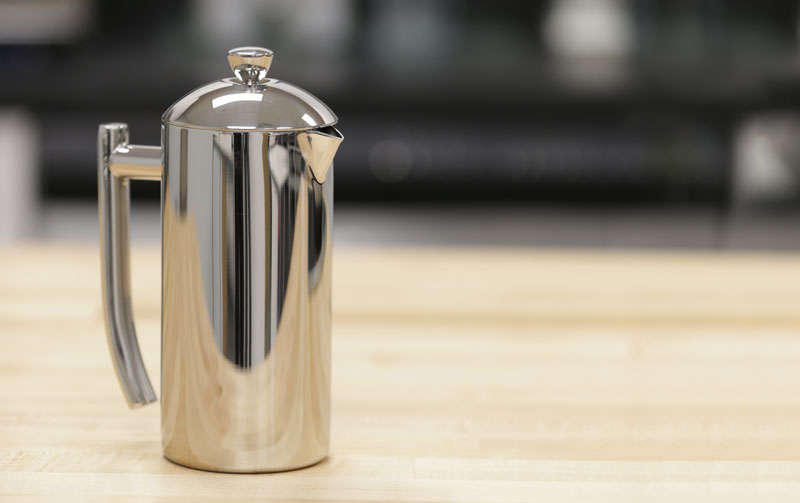 RETAINS HEAT 4 TIMES LONGER THAN GLASS
While the double walled construction keeps coffee and tea warmer for longer after brewing, the carafe also does double duty as a serving pitcher that insulates beverages so that they retain their heat four times longer than a normal glass would. It also works the same way for cold beverages, so you can serve up iced coffee, milk, juice, or iced tea.
Frieling French Press Available in 5 sizes, polished or brushed finish!