Crushgrind Colombia Coffee Grinder (manual, hand burr coffee grinder)
Crushgrind Colombia Coffee Grinder (manual, hand burr coffee grinder)
AWARDS, NOMINATIONS, REVIEWS:
The 6 Best Manual Coffee Grinders for French Press and Aeropress -

 

View Guide »
Hurry, take advantage of your limited time offer.
ENJOY 10% OFF* STOREWIDE with coupon "FP10".
discount will be automatically applied on the price of the qualifying product as you checkout
*brands are excluded: Baratza, Capresso, OXO
FREE* U.S. SHIPPING ON ORDERS $49+
NO HASSLE 90 DAYS RETURNS
NO SALES TAX*
PRICE MATCH & 100% SATISFACTION GUARANTEED
100% U.S. Based Customer Service. Contact us or call (505) 750-1144
WORLDWIDE SHIPPING
Dear Sameer! Thank you for your feedback. We are appreciate it very much. All the best, FrenchPressCoffee.com
Great First Hand Grinder!
As a novice to the world of good coffee, this was my first dive into grinding whole beans at home. For my limited knowledge, this is a great product! I went with this one specifically due to its modern aesthetic. The grinder is consistent with its output and while it requires some additional effort, the finest setting is FINE, like so so impressive! I'm very happy with this purchase!
Dear Erin! Thank you for your feedback. We are appreciate it very much. All the best, FrenchPressCoffee.com
Amazing Manual Grinder
If you are looking into upgrading from a blade grinder and venturing into the world of manual grinders, look no further than the Crushgrind Colombia. Sorry if that sounds like it was ripped from an infomercial, but it's truly how I feel.
I needed to gain more control over the coffee grind I was left with after using my Krups blade grinder. It produced too many fine particles and was too inconsistent for my V60 pour over brew. If I was going to grind anything consistent enough for an even extraction with my French press or pour over, I needed a burr grinder but I wanted the flexibility and price range of a manual grinder. I was worried about a hand grinder that didn't have enough grind settings or steps to allow me to fine tune my grinds to exactly what I wanted. I experimented and counted more than a hundred steps before the burr could be removed for cleaning, essentially giving me a hundred plus settings to play with.
While using a hand grinder is new to me, especially discovering how much strength you need to keep the grinder in place as you rotate the handle, the actual grinding motion was relatively smooth. I only notice resistance once or twice per dosing. There is no top cover to prevent beans from popping out, so be ready to catch a few runaways. The grinder itself, including the attached dosing cup, hold about 15-17 grams of coffee, so be ready to grind a few times if you are preparing large brew batches.
If you need to purge the system, I usually use about 5 grams of coffee, if that is a concern to you. The scale I currently have is only accurate to the nearest gram, so I can not claim that the grinder dispenses the entire dose, but I have noticed build up if you use a relatively fine grind (I'm usually grinding 15 steps from the burrs being closed). You may need to have a more accurate scale to notice coffee retention, but it has not reduced my measured coffee dose.
I recently used this grinder during a visit to a friend's house and loved how little it weighed and it's small profile in my bag. It's size reminds me of a tall, slim can of soda or a regular sized Red Bull. The handle beautifully rests alongside the unit using an integrated magnet and a notch in the ball grip of the handle allows it to rest on top of the grind shift to help secure it in place.
One tip: do not try using the grinder without first loosening the burr setting (turn counter clockwise) as I may have slightly damaged my burr. Im not 100% sure that I did, but I did notice some notches in the burr. My grind profile does not seem to be affected however.
If you have the money or means to experiment with grind size and attempt to fine tune the grind to near perfection, this may be the grinder for you. I can grind for a Turkish setting, which I could never have done with my blade grinder. My pour overs come out great and now I can easily change my grind to start dialing in for the brew profile I want.
I'm so glad I bought this grinder from French Press Coffee instead of Amazon: Amazon was charging over $75 for the same unit. The tracking system provided was pretty accurate and updated regularly, as long as you sign up for notifications, and even though I used free shipping, I received my unit in less than a week (result may vary for you). Try to support websites and stores that specialize in getting baristas and novice coffee enthusiasts, like myself, the equipment they need to improve their coffee and brewing experience. I will return if I need more brewing equipment in the future as I was highly satisfied with my purchase and the level of customer service I received (packaging was secure, product arrived intact, and they gave me a delicious Latte flavored coffee candy in my package).
Peace and Love to everyone at French Press Coffee,
- David F.
Dear David! Thank you for your feedback and taking time to write this review. We are appreciate it very much. All the best, FrenchPressCoffee.com
Love it!
This little grinder, is a great portable gadget , super useful to take on trips, bring it to the office for a nice cup of freshly ground coffee, if you bring your aeropress or other portable coffee maker or keep it in the kitchen for your delicious daily dose of caffeine.
Dear Andy! Thank you for your feedback. We are appreciate it very much. All the best, FrenchPressCoffee.com
Awesome Grinder
I got this grinder through the companies Kickstarter. I love this thing. The slimness and compactness is great. And I love how I can adjust the grind. I recommend fully to any coffee lover who likes to grind their own beans.
Dear Stephen! Thank you for your feedback. We are appreciate it very much. All the best, FrenchPressCoffee.com
Just what the doctor ordered
Works really well, is lightweight for motorcycle trips and maximizes the espresso taste. I'm impressed!
Dear Russell! Thank you for your feedback. We are appreciate it very much. All the best, FrenchPressCoffee.com
Grinds Well, but smaller than I thought
The title pretty much says it all .... This grinder works really well but it is pretty much going to only hold enough grounds for a single cup of coffee ... at least for the size coffee I drink.
Gonna have to fill it up twice to have enough grounds for the french press I use to make a cup for the wife and I.
This is my first shot at grinding my own coffee ... I may up it another notch and roast my own coffee as well..... Then I can offically be a coffee snob.
Hello Robert! Thank you for your feedback. We are appreciate it. All the best, FrenchPressCoffee.com.
Columbia manual coffee grinder
A very well made product. The number of turns required to grind coffee is significantly less than my previous grinder. A consistent grind size. The major issue is the instability of the grinder, especially with the handle on. I now understand the need for the Brazil option. A definite upgrade.
Hello Ayalure! Thank you for your feedback, we are appreciate it. Enjoy your coffee, FrenchPressCoffee.com
The upgrade I was looking for
Very pleased with the grinder. Smaller capacity than the Hario Skerton knockoff I was using, but it grinds so much faster that I can still prepare a large amount of coffee in the same or less time. Really easy to use and really quick. My fiance can even use it easily! The only other thing is that my best friend commented that it looked like a... well. Something unmentionable.
Really happy with how it feels in the hand and how well it works. Does coarse grind really well. Reduced the silt in the bottom of my cup dramatically so I can actually enjoy the stuff again. Worth my money for sure.
Thank you Christian for your feedback. Enjoy your coffee!
When combined with the Columbia Coffee Grinder's CrushGrind BARISTA technology, its design appeal and technological aspects set a new standard for manual grinding coffee equipment and enjoyment.
High output, consistency and does everything from French Press to Turkish coffee in no time ...
Columbia Coffee Grinder - Manual, Hand Coffee Grinder with BARISTA mechanism by Crushgrind®
The Columbia Coffee Grinder is a project three years in the making. This coffee grinder makes use of innovative new ceramic coffee technology that is breaking ground in the way coffee aficionados prepare and enjoy their favorite brews. The makers of the Columbia Coffee Grinder were inspired to create the best manual coffee grinder on the market. In their efforts, the Columbia operates as a handheld grinder to grind everything from French press to espressos to Turkish coffee with the highest output around. The grinder is used to create freshly ground coffee, superior in taste and flavor to pre-ground coffee.
The Columbia Coffee Grinder uses the BARISTA mechanism in part of its technological approach. This mechanism has been created especially for handheld use so that it requires less force while grinding to alleviate too much stress on the coffee grinds. At the same time, it outperforms above the competition in terms of output to give users a better grind in less time than the average grinder. The grinder has an easy fill option along with precise settings for coarseness changeable with a simple twist.
To match its cutting-edge technological approach, the Columbia utilizes a sleek and ultra-compact design that looks at home in any design influenced modern kitchen. Its constructed out of an industrial ceramic which is both stylish and extremely durable and harder than steel. The Columbia also benefits from a handheld design, so it's small and portable enough to be through into a bag or a picnic basket for on the go brewing.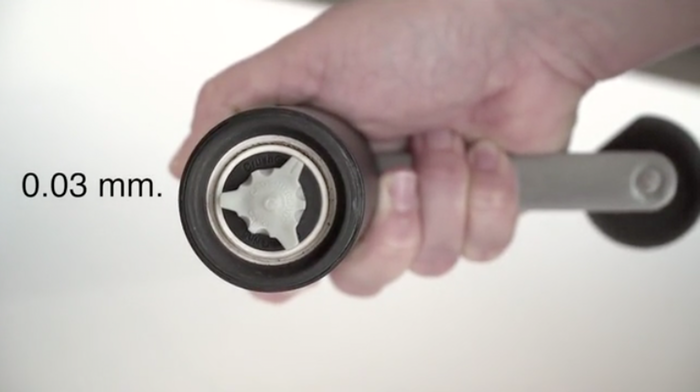 CONSISTENT COFFEE GROUNDS EVERY TIME:
High output, Simple to use, Consistency. Does everything from French Press to Turkish Coffee in no time (adjust ground size with 0.03 mm. accuracy)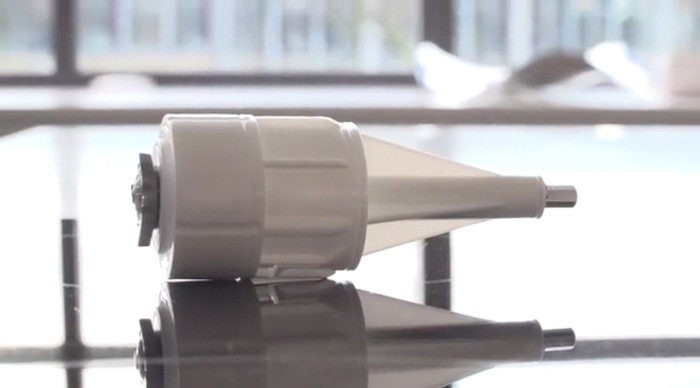 BEST MANUAL COFFEE GRINDER TECHNOLOGY (the BARISTA mechanism):
The Columbia Coffee Grinder is the result of years worth of research and development with the aim of producing the best manual coffee grinder around.
BARISTA mechanism - Less force when grinding and at the same time out-performs on output per turn giving you a better grind in less time.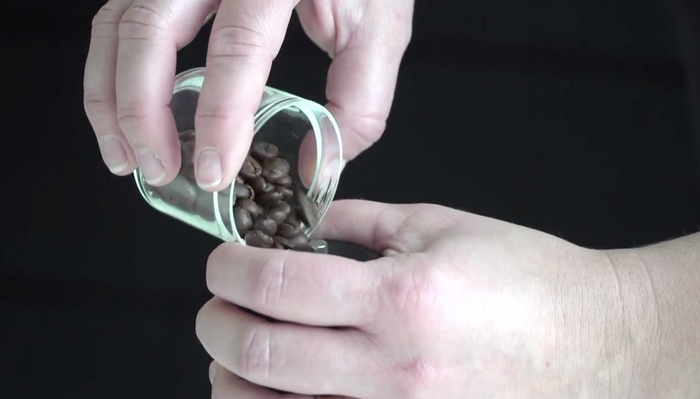 HIGHEST OUTPUT WITH LESS TORQUE:
The Columbia Coffee Grinder uses patented CrushGrind BARISTA technology which allows users to grind tasty and fresh coffee grinds by hand with less force which produced better tasting coffee. The grinder also outperforms by producing better grinds in less time which offers a better approach for fresh coffee.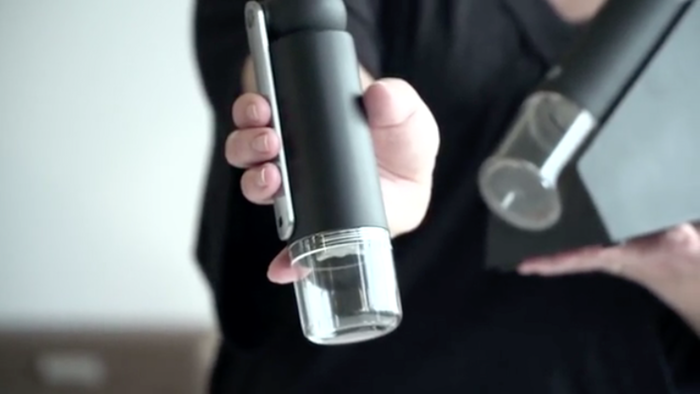 ATTRACTIVE AND CONTEMPORARY DESIGN:
The Columbia is made to match any contemporary and fashionable kitchen. The grinder features a sleek black monochromatic silhouette with an easy to grip handheld grinder. It also incorporates a transparent easy to fill receptacle so you can see your beans move into the grinder from the top.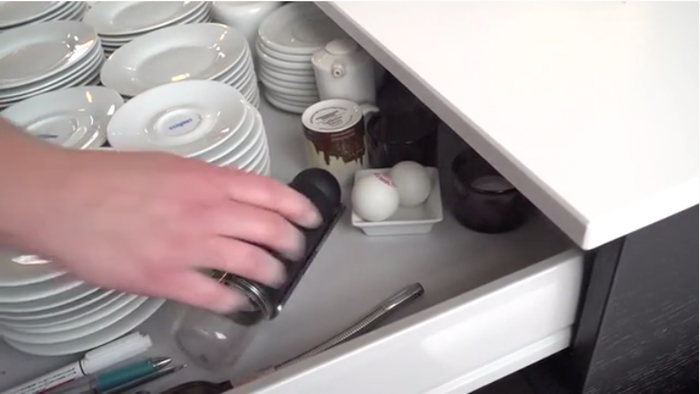 HANDHELD AND COMPACT COFFEE GRINDER:
The grinder is compact and in a handheld design. Its handheld grinder function can be folded in so that it is extremely portable. It's small and transportable enough to be thrown into a backpack or picnic basket to take anywhere for an on the go coffee break.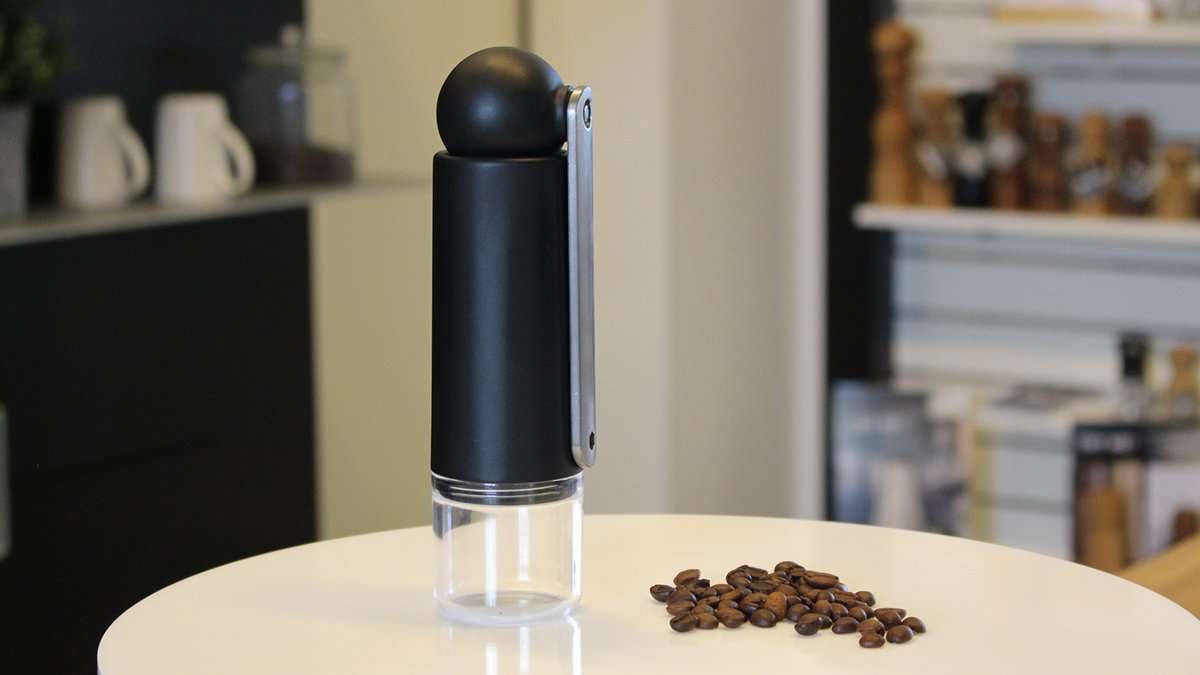 DURABLE CONSTRUCTION TO OUTLAST THE REST:
The Columbia Coffee Grinder is made from a special industrial ceramic that is not only stylish but also incredibly durable. The material is stronger than steel allowing you to benefit from its strength in brew after brew.
GET 10% OFF TODAY
your first purchase
BE THE FIRST TO GET PROMO OFFERS STRAIGHT TO YOUR INBOX
HURRY, LIMITED TIME OFFER* FIRST TIME CUSTOMERS ONLY!
Our most popular products based on sales and ratings. (Updated monthly)
View BESTSELLERS
Take a look at the great Coffee Coupons and Special Offers we have for you.
View COUPONS