Ankomn Airtight Coffee Storage and Food Container
Ankomn Airtight Coffee Storage and Food Container
FREE FRENCH PRESS INSURANCE (EXCLUSIVE)
IF YOUR FRENCH PRESS IS BROKEN, WE'LL GIVE YOU 50% STORE CREDIT


FREE 1 YEAR FRENCH PRESS INSURANCE* AGAINST ACCIDENTAL BREAK
FREE* U.S. SHIPPING ON ORDERS $35+, FREE RETURNS
NO HASSLE 45 DAYS RETURNS, NO SALES TAX*
PRICE MATCH & 100% SATISFACTION GUARANTEED
100% U.S. Based Customer Service. Contact us.
WORLDWIDE SHIPPING
Ankomn Everlock 100% airtight container (perfect for Coffee, Teas, Gains, Nuts, Medicine)
The Ankomn Airtight Coffee Storage Container ensures the longevity and the flavor of your coffee beans with one of the most sophisticated engineering of any consumer home product.
Created specifically to protect the flavor and the veracity of the most difficult beans on the market, your Ankomn "flavor saver" gives you professional quality storage in the comfort of your home. It works from a proprietary vacuum mechanism that is not powered from electricity, which is very important. Electrically powered coffee containers introduce variables into the storage process that create problems in the continuity of storage. The electricity itself also shortens the life of the beans.
The Ankomn Airtight Coffee Canister keeps everything you want away from your beans without introducing anything new into the process. It also prevents any moisture from entering the storage space without sucking the life out of the beans inside.
There are many other advantages to the Ankomn brand. The storage space in this particular container is fully optimized to ensure that you have the ability to save your coffee in volume. Open and close the container as many times as you need to retrieve coffee for a day or a week without ruining the rest of the stash. After you are done with one batch, you can easily clean the inside with powder.
The Ankomn Airtight Coffee Storage Container also gives you impact resistance, so you won't lose the integrity of your product even with the day to day wear and tear of your kitchen. Because of this, your container is good for not only coffee, but also for teas, rice, nuts and even medicine.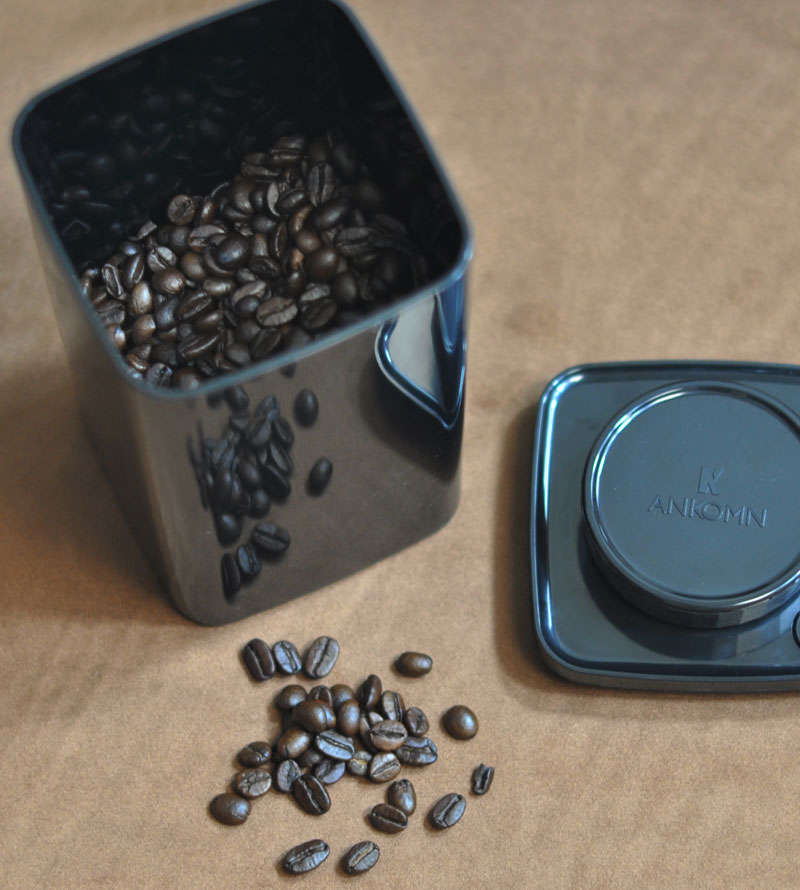 Airtight mechanism - The core feature of the Ankomn Airtight Coffee Storage Container provides you a professional grade airtight environment without the use of electricity.
Optimized storage space - Although the Ankomn Airtight Coffee Storage Container is quite aerodynamic and streamlined, it can hold 1.2+0.6 quart of product. You can store a week or more of coffee beans while drinking at your own pace.
Moisture prevention - Moisture in the air is one of the most dangerous opponents to the flavor and veracity of your coffee. The Ankomn Airtight Coffee Storage Container keeps the purity of your beans through complete and total moisture prevention in the space.
Powder compatibility - You can easily clean your Ankomn Airtight Coffee Storage Container with powder, which helps to ensure the longevity of the product.
Impact resistance - No matter what your Ankomn Airtight Coffee Storage Container goes through, it will continue to protect your product nonetheless.
QUICK FRENCH PRESS COFFEE:
SIGN UP AND GET 5% OFF TODAY
SIGN UP TO OUR NEWSLETTER - GET 5% OFF* TODAY. HURRY, LIMITED TIME OFFER!