Fellow Stagg EKG Pour-Over Kettle, Quick Heating, Variable Temperature Control and Built-in Brew Stopwatch
Fellow Stagg EKG Pour-Over Kettle, Quick Heating, Variable Temperature Control and Built-in Brew Stopwatch
AWARDS & NOMINATIONS:
Best Coffee Gift - Electric Coffee Kettle of 2020 | View Guide »
Hurry, take advantage of your limited time offer.
ENJOY 10% OFF* STOREWIDE with coupon "FP10".
discount will be automatically applied on the price of the qualifying product as you checkout
*brands are excluded: Baratza, Capresso, OXO
FREE* U.S. SHIPPING ON ORDERS $49+
NO HASSLE 45 DAYS RETURNS
NO SALES TAX*
PRICE MATCH & 100% SATISFACTION GUARANTEED
100% U.S. Based Customer Service. Contact us or call (505) 750-1144
WORLDWIDE SHIPPING
Good stuff bad order
I got some great deals on what I ordered but was sent the wrong kettle. Ordered and EKG Gooseneck and they sent an EKG with a normal spout which isn't even offered on the site. Hoping this is an easy fix.
Hello Maddy!
Thank you for contacting us. Yes it's our mistake and we'll send you replacement with pre-paid return label. I'm very sorry for the inconvenience.
All the best,
Igor - founder.
Quick and Efficient
I was using a stovetop gooseneck kettle that worked great. Seriously, loved it! My holdup with French Press brewing has to do with time however. This kettle is 2-3 times faster than the stovetop! In addition, the built in timer makes sure I'm not bouncing all over the kitchen to make sure I get the perfect brew.
Dear David! Thank you for your feedback. We are appreciate it very much. All the best, FrenchPressCoffee.com
Stagg EKG kettle
Nice looking. Well packaged. Easy to use. Easy to pour. Would recommend.
Dear Ric! Thank you for your feedback. We are appreciate it very much. We will contact you and will try to help. All the best, FrenchPressCoffee.com
Beautiful and functional
Excellent addition to my kitchen. Heats quickly, maintains temperature, sleek look... couldn't ask for more
Dear Deirdre! Thank you for your feedback. We are appreciate it very much. We will contact you and will try to help. All the best, FrenchPressCoffee.com
So far, so good
Does a nice job of getting the water to the exact temperature quickly. Heats very fast, then slows down right at the end. The timer is also a nice feature. Has the right amount of controls without overcomplicating things. Now I just need to see how long it lasts. One small complaint: it had a piece of cardboard wedged between the kettle and the handle when it arrived. I had to pry a stopper out and unscrew the handle to get it out.
Dear Alan! Thank you for your feedback. Please contact us if you need a replacement. We are always here to help. All the best, FrenchPressCoffee.com
Stagg EKG Pour over Kettle
Excellent product.
This kettle looked great online and it is even better in person.
This is so straight forward to use and the water heats up quickly.
I have not timed it but, I fill & turn it on ...by the time I grind my coffee and place it in an Aeropress, pour over or French press it is always ready.
Pleasantly surprised that bottom of the kettle is not hot to the touch and the insulation keeps the water warm.
I would recommend the EKG and frenchpresscoffee.com to a friend.
FPC were easy to reach by phone and very helpful answering questions honestly.
Dear Jeff! Thank you for your feedback. We are appreciate it very much. All the best, FrenchPressCoffee.com
Stagg EKG Pour-Over Kettle, Quick Heating, Variable Temperature Control and Built-in Brew Stopwatch
Highly satisfactory product. Quality construction, quick heating and excellent holding set point temperature ability. Finally able to drink my coffee at my desired temperature. Excellent service from frenchpresscoffee. Have ordered additional items.
Hello Michael! Thank you for your feedback. We are appreciate it very much. All the best, FrenchPressCoffee.com
The Fellow Stagg EKG Pour-Over Kettle makes brewing up your favorite cups of coffee more stylish and fun.
The kettle combines the best of modern technology into a highly functional piece of equipment. With a variable temperature and easy to use controls the Stagg EKG kettle allows users added flexibility.
Fellow Stagg EKG Electric Pour-over Kettle For Coffee and Tea with Variable Temperature Control, Quick Heating, Built-in Brew Stopwatch
All the basics that you know and love about the original Stagg are there, including the iconic conical shape, ergonomic handle, and fluted spout, but the EKG adds a touch of lo-fi vintage appeal with turntable styling. An analog jog wheel allows you to set the temperature of your brews with a simple twist while binary switches at the back of the base let you differentiate between Fahrenheit or Celsius and whether or not you want the kettle to hold the temperature automatically.
The kettle's LCD screen then lets you view the current heat level of each brew while a hold button lets you pause on a desire temperature for up to one hour. Each of the kettle's functions works seamlessly with the other to allow you greater control over the temperature of your brew in the easiest and most efficient way possible.
Aside from its standout tech features, the Stagg EKG Pour-Over Kettle has a precision pour spout that Fellow is known for. The gooseneck style spout is mounted low with a curved shape and fluted tip which gives you more control over a pour than a traditional kettle. Its super minimalist design is enhanced by its matte black finish which looks stylish in any kitchen. A counterbalanced handle on the kettle allows you to shift the center of the device's mass toward your hand for easier and more accurate pouring.
As the kettle can accommodate up to 1 liter of water you can brew up enough to enjoy cup after cup throughout the day or make enough to satisfy a thirsty family.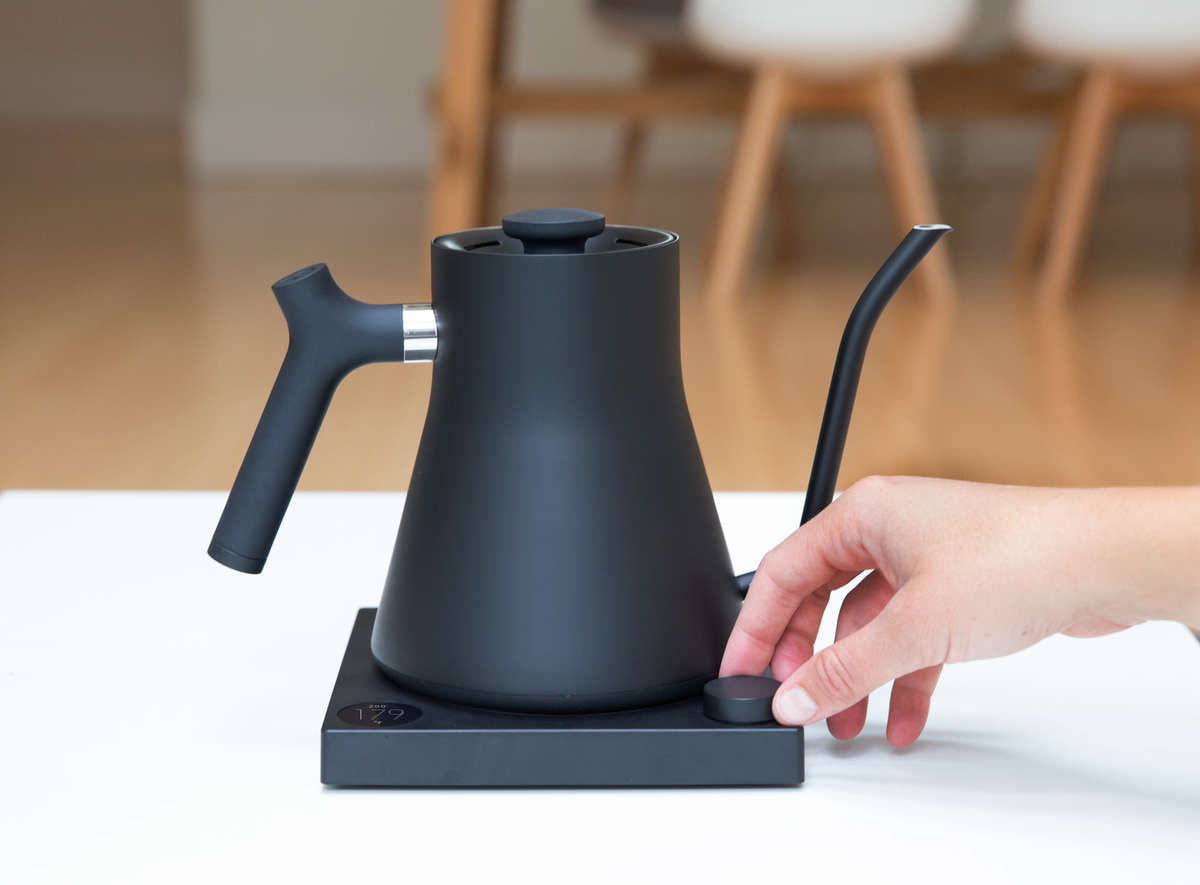 VERSATILITY OF TEMPERATURE CONTROL:
The Stagg EKG Pour Over Kettle allows for precise temperature control. You can set the kettle accurately down to the degree anywhere between 135º and 212º for the optimally brewed cup of coffee or tea.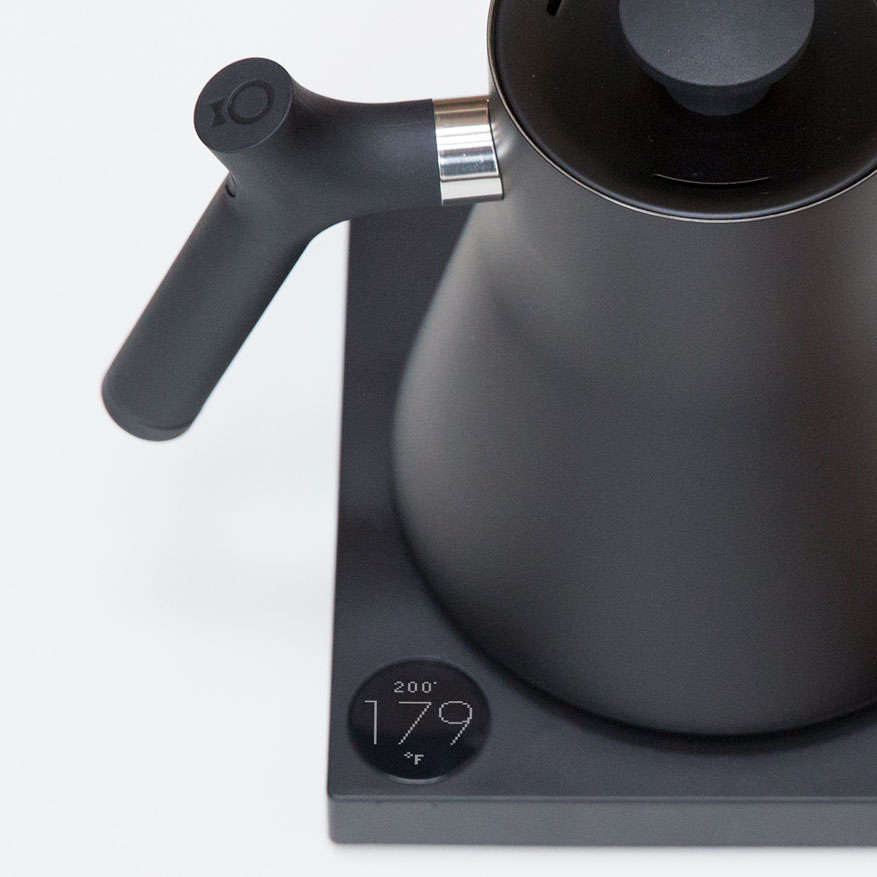 EASY TO READ LCD SCREEN:
The kettle's LCD screen is crystal clear and easy to read so you can view the precise temperature of your brew. You can select either the "Set Temperature" function or the "Real Time Temperature" function on the illuminating display to show the heating progress.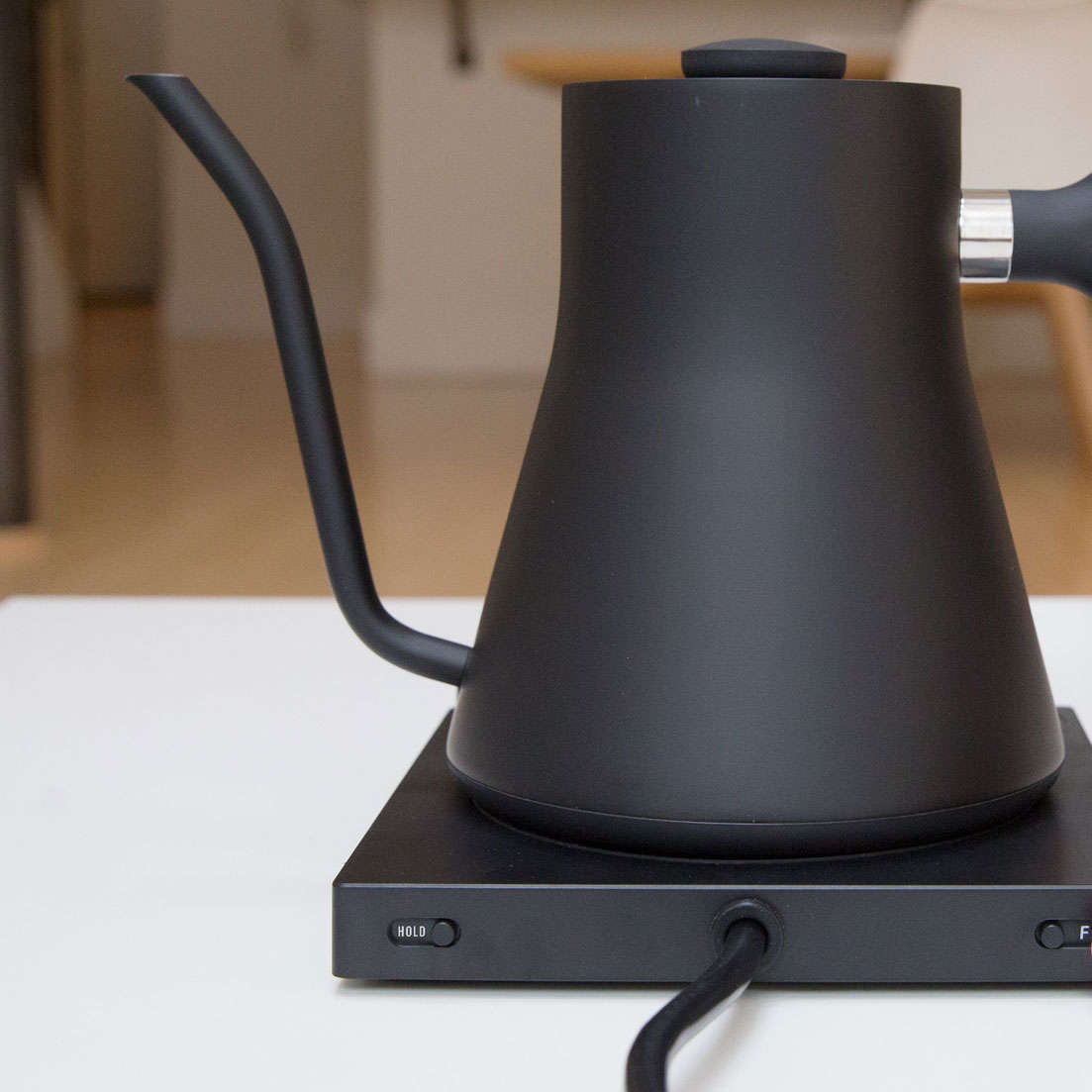 HOLD OPTION TO KEEP BREWS GOING:
A toggle switch on the back of the Stagg EKG Pour-Over Kettle allows you to select the hold mode. This mode will maintain your brew at the desired temperature in either Fahrenheit or Celsius for up to one hour, so you never have to worry about forgetting to turn off on turn up your device. When not in hold mode the kettle will put itself to sleep after reaching its set temperature.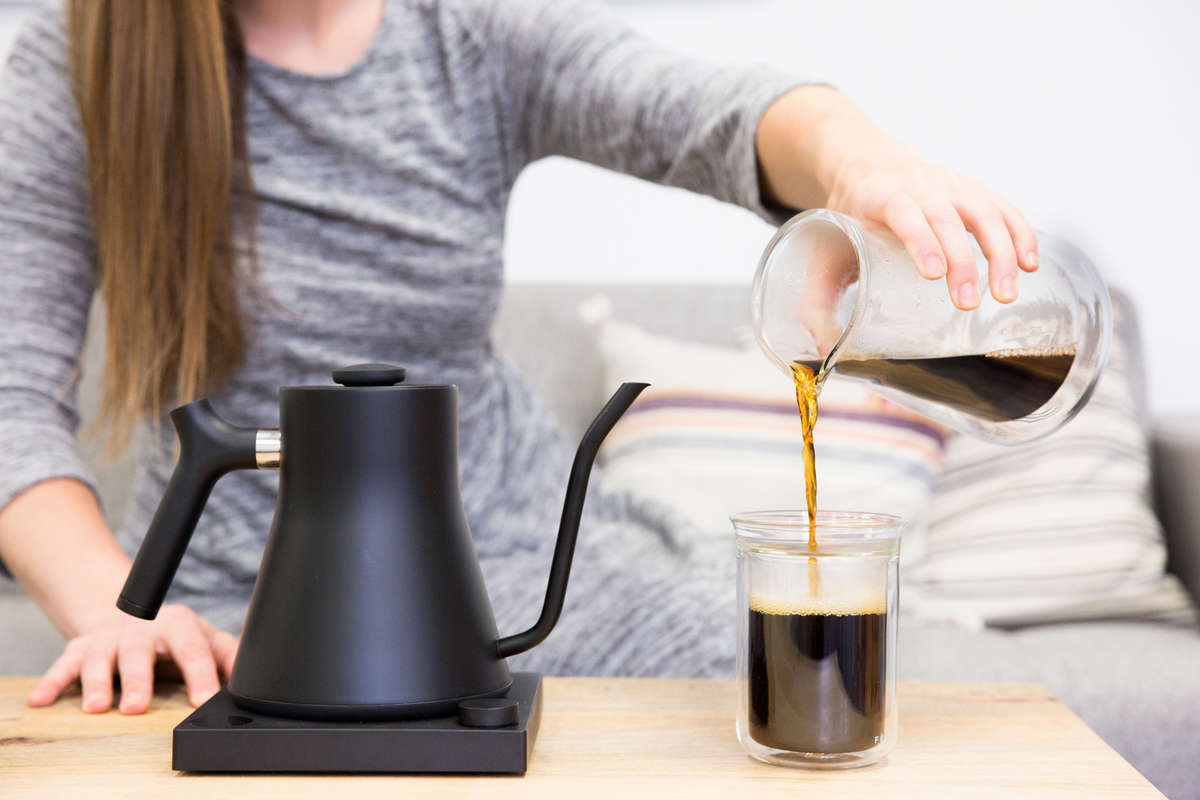 STYLISH AND FUNCTIONAL DESIGN:
The Stagg EKG features an ultra sleek and modern design which looks beautiful in any kitchen. Its gooseneck style spout, curved shape, and fluted tip make for an attractive silhouette. Its matte black finish is a focal point of its design-led approach.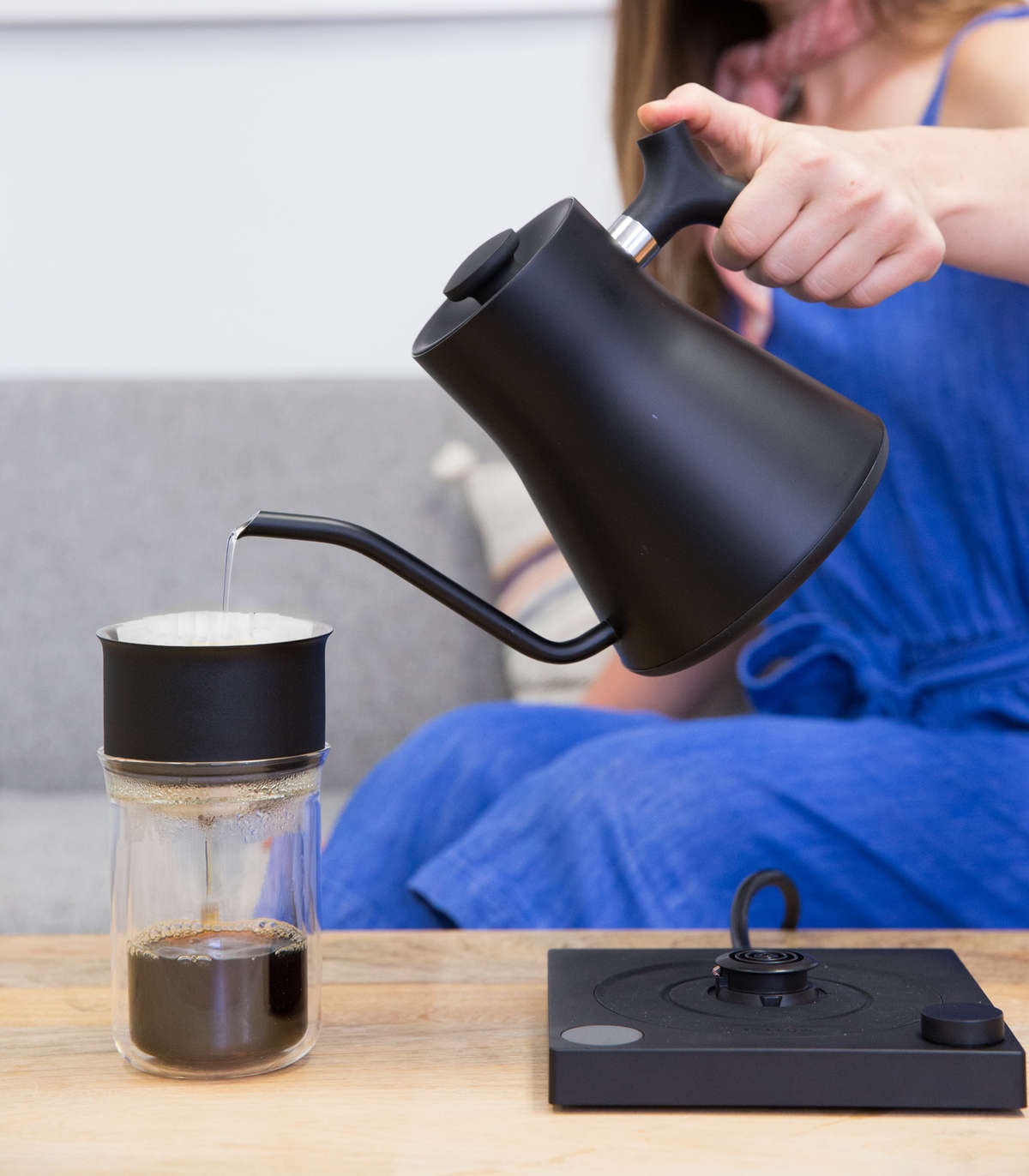 ACCURATE AND PRECISE POURING:
The Stagg EKG Pour-Over Kettle features a specially designed spout that allows you more precision and control in your pours. The kettle's counterbalanced handle shifts weight to your hand so you can have easier and more accurate pouring free of splashes and spills.
TECHNICAL SPECS:
Plug: Type-B (for U.S. and Canada)
Power: 1200W, 120V~, 50/60Hz, 9A
Material: 304 stainless steel kettle body and lid, plastic base
Temperature Range: 135-212 F/57-100 C
Volume: 0.9L or 0.6L to max fill line
Cord Length: 2.5 ft
0.9L Weight: 2.75 lbs/1274 g (includes kettle base) | 0.6L Weight: 2.6 lbs/ 11180 g (includes kettle base)
0.9L Dimensions: 11.5″x 6.75″x 8″ (292mm x 171mm x 203mm) | 0.6L Dimensions: 10.5″ x 7.5″ x 7.75″ (267mm x 191mm x 197mm)
Product Certifications: ETL compliance, FCC certified
GET 10% OFF TODAY
your first purchase
BE THE FIRST TO GET PROMO OFFERS STRAIGHT TO YOUR INBOX
HURRY, LIMITED TIME OFFER* FIRST TIME CUSTOMERS ONLY!
Our most popular products based on sales and ratings. (Updated monthly)
View BESTSELLERS
Take a look at the great Coffee Coupons and Special Offers we have for you.
View COUPONS