Lido 3 Manual Hand Burr Coffee Grinder - Orphan Espresso
Lido 3 Manual Hand Burr Coffee Grinder - Orphan Espresso
WHY SHOP WITH US at FRENCHPRESSCOFFEE.com
FREE FRENCH PRESS INSURANCE (EXCLUSIVE)
IF YOUR FRENCH PRESS IS BROKEN, WE'LL GIVE YOU 50% STORE CREDIT


FREE 1 YEAR FRENCH PRESS INSURANCE* AGAINST ACCIDENTAL BREAK
FREE* U.S. SHIPPING ON ORDERS $35+, FREE RETURNS
NO HASSLE 45 DAYS RETURNS, NO SALES TAX*
PRICE MATCH & 100% SATISFACTION GUARANTEED
100% U.S. Based Customer Service. Contact us.
WORLDWIDE SHIPPING
You get what you pay for!
I drink exclusively French press coffee and was looking for a grinder, one that was highly rated as well as being portable as we travel a lot. I spent days researching for just this grinder. It's really quite a pain, it seems every unit out there has problems, within a reasonable price range I mean as I can't really compare my search's to a $1000.00 machine. As I was quite used to my old burr grinder and gram weight that I use I thought that I would see if there can actually be a difference in the flavor by just having a better grinder. Personally I opted for this one because of the build quality, ratings and portability. The following is my summation. Wow, not only is the flavor far superior, I actually had to reduce gram weight to my pleasure and surprise. The last benefit is one that I personally enjoy. As you know this is a manual grinder, not a 900 rpm electric. What takes 20 seconds with an electric will take you more like a minute by hand, so I get the benefit of an upper body workout to start the day. By the way, very easy to grind, a child could do it. I do believe this will my last grinder purchase!
Dear Paul! Thank you for your feedback. We are appreciate it very much. All the best, FrenchPressCoffee.com
WOW!
I started with a cheap $30 hand grinder. It took 3-4 minutes to grind 25g of beans. It takes about 30 seconds with the Lido 3. It's quiet enough to not wake the kids- The last grinder I'll ever have to buy, and we are drinking the best coffee we've ever made.
Dear Rick! Thank you for your feedback. We are appreciate it very much. All the best, FrenchPressCoffee.com
More Than a Traveler's Delight
I am a specialty coffee roaster who uses best practices in grinding and brewing to test my roasts. This is a product whose grind rivals my thousand-dollar results. Twenty minutes after unwrapping the Lido 3 and heating my espresso machine, I compared shots from my AP Forte grind and the Lido. It was impossible to tell them apart, except that one was slightly cooler because it was pulled first. I will also add that it was my very first attempt at calibrating the Lido 3 to that of a carefully calibrated Forte setting for my machine. I was able to repeat the brewing results with a grinder-on-grinder test in a pour over. Using the MeloDrip low-agitation technique and the two grinds, again I achieved very bright flavors and noticed a complete lack of clumping at even the espresso level. I used to grind for 1-2 weeks at a time before traveling -- I don't have to do that now. But, I also feel that this hand grinder would exceed $300 electric grinders in the home.
Dear Chuck! Thank you for your feedback. We are appreciate it very much. All the best, FrenchPressCoffee.com
Excellent Hand Grinder
I needed a decent hand grinder that provided good ground consistency and spent quite some time researching and on reviews.
It's a bit more risky since I'm rural and cannot readily walk into a store to check things out.
I finally decided on the Lido3 and I'm sure I made the right choice. It's larger and heavier, but I don't take it on travels.
But mainly - it's solid, built like a tank and feels really good. It does exactly what I was expecting. Not cheap though, but … you get what you pay for.
Igor and the staff at Frenchpresscoffee were excellent in assisting, answering questions … and shipping to Canada with preferred currier.
No complaints ... a happy customer.
Klaus
Dear Klaus! Thank you for your feedback. We are appreciate it very much. All the best, FrenchPressCoffee.com
Fantastic
Purchasing this grinder from Frenchpresscoffee.com and using it has been a very positive educational experience.
Hello Jeffrey! Thank you for your feedback. We are appreciate it very much. All the best, FrenchPressCoffee.com
The Lido 3 clearly deserves all the praise it gets; it's awesome
I love my Lido 3 and I'm really glad that I bought one and that I bought mine from French Press Coffee, as their service was beyond outstanding.
Depending on how fine or coarse my grind is, I can grind 20 grams of beans with the Lido 3 in about 30-45 seconds when grinding at a relatively unhurried pace. And I can grind across a wide range, from super fine to very coarse (and the Lido 3 is designed to grind at a full range from espresso to French Press). I primarily use it for pour over grinds with V60 and Bee House drippers, as well as for French Press, Aeropress, Clever Dripper, and Moka Pot.
There is a learning curve to adjusting grinds but I found it easier than I anticipated. I keep track of different grinds by counting marks on the Lido 3's adjusting ring, and recording the settings in a little coffee notebook. I find it fun to experiment with different grinds. When I first got the Lido 3 I experimented by grinding some old beans at different settings, and that was helpful.
The Lido 3 comes with a brush and I do find that I usually have to brush some ground coffee from below the burrs to avoid wasting it, so I can add the time it takes me to do that to the 30-45 seconds it takes me to grind 20 grams.
Before buying a Lido 3 I used an under $100 electric burr grinder as well as 3 different Hario hand grinders (an original, a Plus, and a Mini). The difference in the quality of the coffee that I get with beans ground with my Lido 3 is remarkable and undeniable and I will never go back to using any lessor grinder. The Lido 3 grinds beans very uniformly, as I can see with the naked eye as well as with a magnifying glass and loupe, and this obviously makes for a superior extraction. My home brewed coffee has never tasted so good.
I anticipate (and hope) that my Lido 3 will eventually be passed along to one of my grandchildren, as it seems built to last "forever."
Hello James! Thank you for your feedback. We are appreciate it very much. All the best, FrenchPressCoffee.com
Better than Amazon
Less $ - faster free shipping - I like that - the grinder works great - faster than the blade - very happy
Hello Dean! Thank you for your feedback. We are appreciate it. All the best, FrenchPressCoffee.com.
Fantastic grinder will serve you a lifetime
My grinder journey was a long one.
I had a grinder I hated the adjustment system of.
I wanted a grinder that I could better see the settings so that I could actually save my setting to be more consistent.
There are plenty of grinders out there, and not very many of them have good visible adjustment systems.
I shopped for weeks and read hundreds of review, but I just couldn't find a grinder that I liked that had decent reviews.
I finally ran into a video on YouTube that showcased the Lido 3.
I was so excited and started to research only to find that the Lido 3 was perfect for my grinder criteria.
I was familiar with frenchpresscoffee.com from there YouTube videos (which are extremely helpful and well researched) so I decided to see if they had the grinder.
When I saw they did I purchased it immediately.
I was astonished at how much of a step up the Lido 3 was in the grinder space.
It's easy to take care of, has a good heft to it so it doesn't slip from the hand, and the grind consistency from what I have seen so far is superb.
The grinder is very easy to turn and due to the aggressive burrs grinds with ease.
The step-less adjustment system is something I am still getting used to, but the freedom of adjustment makes it well worth it.
This grinder brings out flavors I didn't know my coffee had and that's due to how consistent the grind is for a hand grinder.
I use this grinder at the office and it doesn't bother anyone with noise which was fantastic and a huge part of my criteria for a grinder.
The handle and the carrying case make this THE grinder for me to use for travel and back and forth to work.
All and all I would say that this grinder is worth every penny spent on it and will last you a very long time if not a life time.
Hello Tommy! Thank you for your feedback. We are appreciate it. All the best, FrenchPressCoffee.com.
Great versatile tool
I've been very happy with the Lido 3, and so far I have used it to brew several V60 and siphon coffees. It's offering a much more consistent grind than my previous grinder (the porlex), and I haven't tried this yet but it also seems to be able to grind much finder if I ever need to. It is obvious from using this grinder that the design is very well thought out, and it is made of very durable and high-quality materials. I've been traveling with it internationally - it's a bit larger than the porlex, but definitely worth it. I've done some grain size distribution analysis with pictures and the ImageJ software, and I find that it can produce grain distributions not far from the Mahlkonig EK (although I haven't been exploring the fines at < 300 micron, which I believe the EK will generate much less of). This is the best grinder I've tried short of much more expensive automated Burr grinders.
Hello Jonathan! Thank you for your feedback, we are appreciate it. Enjoy your coffee, FrenchPressCoffee.com
A great grinder!
After a few days using the grinder, I can say I'm surprised! It is very easy to use and accurate. He is bigger than I imagined. Even though it is considered a portable grinder, it weighs approximately 1 kilogram. So if you think about carrying it in your backpack get ready for the extra weight. Despite this, it is a great grinder, very well built and made to last. It will certainly meet the expectations of the most demanding baristas and worry about the quality of their filtered coffee. The french press service was amazing, and the delivery was done on time. I send a big hug from Brazil!
Hello Fabricio! Great to hear form you. Thank you for your feedback. Enjoy your coffee - FrenchPressCoffee.com team!
What makes the OE LIDO 3 Manual Coffee Grinder stand out from the rest of the OE line is its very consistent grinding and portable design.
Weighing in at just 1+ Kilo (2.7 lb), the LIDO 3 is made to be large capacity portable grinder.
The Orphan Espresso LIDO Coffee Grinder is a hand grinder which remains mainstay in any coffee lovers arsenal. The grinder features a full-range of grind adjustment (from Turkish Coffee to French Press grinds) constructed to last day in and day out to create optimally brewed cups of coffee.
It's made from lighter materials and incorporates an ergonomic handle and improved funnel top that is perfect for loading beans. Not only does the grinder reduce material waste, but its also a more consistent grinder taking less time to produce the right kind of grind.
To allow you to cart the device anywhere you want to go the Lido 3 comes with its own carrying case and accessories, making it one of the more unique hand coffee grinders to hit the road. The LIDO 3 also features 48 mm. Swiss made steel burrs with a more aggressive cut than a similar burr coffee grinder, so you can grind your coffee in less time without losing any quality.
Use the stepless grind adjustment with dual threaded rings to select and lock in your desired grind. The grinding axle is stabilized at the top of the hopper and below the burr by bronze bearings that reduce burr wobble. The grinder's rubberized grinding handle unlocks to swivel inward when you're ready to pack it up to go. You can store up to 70 grams (10 tbsp.) of beans in the hopper, while the anti-static grinds bin can safely contain around 100 grams of ground coffee.
As such the OE LIDO 3 Manual Coffee Grinder is a completely full-range grinder that can tackle everything from Turkish coffee to French Press grinds, to espresso. The grinder is well positioned to tackle these different grinds while still being quite affordable and holding its own value.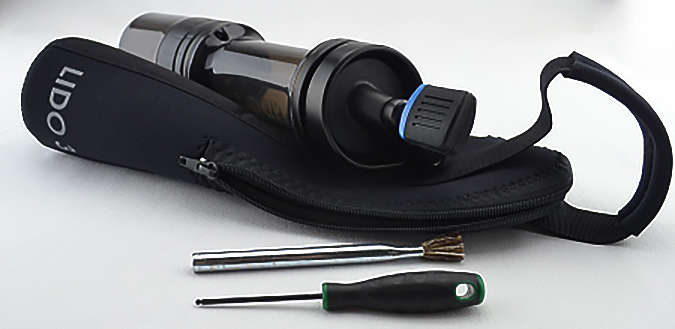 PORTABLE AND LIGHT DESIGN FOR TRAVEL:
The OE LIDO 3 coffee grinder made for the coffee lover who likes to travel. Its diecast folding crank handle easy swings in to allow the grinder to be packed away into its included carrying case. The grinder also uses less materials so it is lightweight and portable for on the go brewing.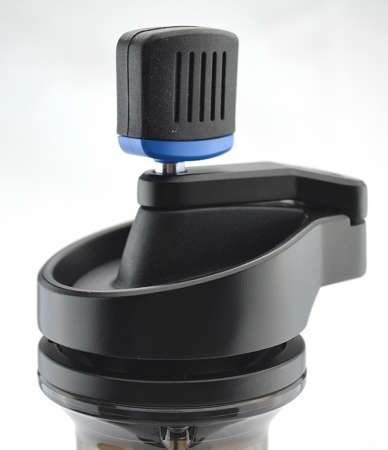 EASY TO GRIP HAND GRINDING ACTION:
The LIDO coffee grinder has been designed with an ergonomic, soft grip handle knob. The easy grip handle allows for a quicker manual grind with more precise grounds.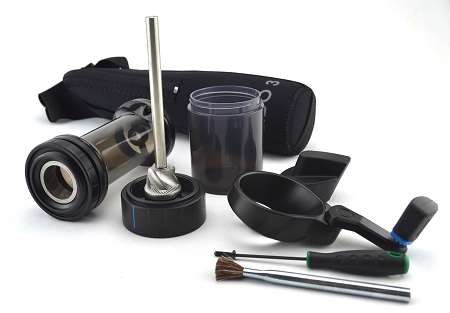 HIGH-QUALITY MATERIALS AND CONSTRUCTION:
The OE LIDO 3 Manual Coffee Grinder features a high quality, 48mm Swiss-made steel conical grinding burr set. Its bronze dual axle replaceable bearing system also provides full grinding stability and allows for more consistent particle size.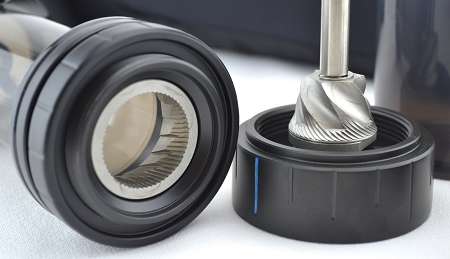 MADE TO LAST :
The OE LIDO 3 is made to withstand daily grinding while still upholding its value.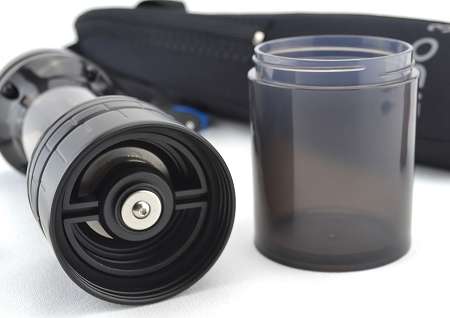 LARGE CAPACITY HOPPER:
The grinder features a large capacity BPA free food safe hopper which can hold up to 70 grams of coffee beans. It also includes an anti-static plastic catch jar.
OE Lido 3 Manual Coffee Grinder Disassembly and Assembly Instructions
LIDO 3 FEATURES:
48mm Swiss Made Steel Conical Grinding Burr Set
Diecast Folding Crank Handle with Integrated Funnel for easy bean loading
Soft grip handle knob
Large Capacity Food Safe BPA Free Plastic Hopper holds up to 70 grams (10 tablespoons) of coffee beans
Bronze Dual Axle replaceable Bearing System for complete grinding stability and consistent particle size
Micrometric Stepless External Grind Size Adjustment System
Solid Rubber Hopper Stopper for Funnel
Anti-Static RTP Permastat ABS Plastic Catch Jar
One step disassembly process for trouble free cleaning with the included natural bristle brush
Assembly/disassembly uses a single included tool
Dimensions: 13.5" overall height to the top of the knob, 3" diameter at the catch jar (not including bag or tools)
Smooth Grip Tinted Hopper is 2" in diameter
Weight - 2 lb 5oz (1052 grams)
What's in the box:
LIDO 3 hand coffee grinder
​Carrying case (Neoprene)
Silicone rubber hopper lid
Hex tool for grinder maintenance
Cleaning brush (Natural bristle)
Owners manual
SIGN UP AND GET 5% OFF TODAY
HURRY, LIMITED TIME OFFER* FIRST TIME CUSTOMERS ONLY!