Lido 3 Grinder, Hand Coffee Grinder for French Press, Drip and Espresso
Lido 3 Grinder, Hand Coffee Grinder for French Press, Drip and Espresso
Hurry, take advantage of your limited time offer.
ENJOY 5% OFF* STOREWIDE with coupon "FP5".
discount will be automatically applied on the price of the qualifying product as you checkout
*brands are excluded: Baratza
FREE* U.S. SHIPPING ON ORDERS $49+
NO HASSLE 45 DAYS RETURNS
NO SALES TAX*
PRICE MATCH & 100% SATISFACTION GUARANTEED
100% U.S. Based Customer Service. Contact us or call (505) 750-1144
WORLDWIDE SHIPPING
Cheap grind catch
The stainless steel catch is awful. It does not fit correctly and takes multiple attempts to get on. Sometimes it gets stuck and you start changing the grind adjustment ring trying to take it on or off. I can already tell I'm going to throw my grinds all over the kitchen trying to get this thing off. The folding handle unfolds when grinding all the time. The clamping mechanism is not tight enough. Besides these problems it makes nice consistent grinds
Dear Andrew! Thank you for your feedback. We are appreciate it very much. We will contact you and will try to help. All the best, FrenchPressCoffee.com
Awesome grinder
Great grinder after researching and the settings and functionality. Enjoying my morning coffee so much more now
Dear Eric! Thank you for your feedback. We are appreciate it very much. We will contact you and will try to help. All the best, FrenchPressCoffee.com
Grinder arrived late inspite of paying for expedited shipping
I paid an extra 20$ for the fastest shipping option. It arrived 2 days after the promised date. I needed it for a specific day for a specific purpose. The 20 $ was a waste of money. Also, when it arrived the steel grinds cup was incorrectly screwed on to the body. So I had to spend a good 20 minutes trying to remove it and was afraid of damaging the grinder. I eventually had to whack it against the floor to get it to come off. Very unpleasant experience. Other than that, the grinder works very well. Solid build, fast grinding.
Hello Anirban! Thank you for your feedback. I did checked your order and it looks like we shipped your order next day with 2nd Day Air as promised. I'm very sorry that it not arrived on time. During COVID-19 time we do see some delays. However we'll still take responsibility and refund your shipping cost. Please let us know if you have any questions or concerns. All the best, Igor - founder.
I love this grinder
It is as expected: solid, easy to use, makes a very "espresso ready grind"!
I had a little trouble getting the grind handle in position, I think because I have trouble with written instructions. But there are great videos about this product on line, so just keep at it.
Thank you.
Dear Cecile! Thank you for your feedback. We are appreciate it very much. All the best, FrenchPressCoffee.com
Great grinder
This grinder is built like a tank. Build quality is excellent. Grind quality is very good. FrenchPressCoffee.com service is very good, fast delivery, comes very nicely packaged.
Dear Ron! Thank you for your feedback. We are appreciate it very much. All the best, FrenchPressCoffee.com
Definitely worth the money
This grinder is a massive upgrade from any of the sub $50 grinders you see out there. The stainless steel burr makes this thing grind beans at a much quicker pace than a ton of other hand grinders. The only downside I can think of for this grinder is that it is worth noting that it's rather on the large side, and that it's also on a pretty heavy side for weight, so it can be tough at times when grinding tougher beans since the grinding mechanism needs to cut through the harder shell and the unit isn't always going to stay stable on a counter top or in hands.
Dear Luke! Great to hear from you and thank you for your feedback. We are appreciate it very much. All the best, FrenchPressCoffee.com
Dear Ariel! Thank you for your feedback. We are appreciate it very much. All the best, FrenchPressCoffee.com
very disappointed
The best mill for me ... until yesterday. After enjoying coffee grinding for one or two cups a day for the last 5 months, the adjusting ring has completely locked. I have tried everything, hot water, freezer, even tools and nothing happens. Unfortunately, the adjustment fixed was so fine that it clogged my Espresso machine, and in the French press it gave a horrible result.
High quality
This grinder is everything French Press Coffee says it is. High quality product. Once familiarized with its operation, it works flawlessly. Also, great price and quick shipping.
Dear Bob! Thank you for your feedback. We are appreciate it very much. All the best, FrenchPressCoffee.com
Just what I needed
Solid grinder, you can tell just by picking it up, it weighs 1kg!
Most importantly - grind is exceptional.
The steel on it makes it feel really well built.
Easy to hold, easy to grind.
Mine traveled all the way to South Africa, and I'm glad I went through the effort to get it here!
Really well thought out, I doubt I would change anything.
Dear Ryan! Thank you for your feedback. We are appreciate it very much. All the best, FrenchPressCoffee.com
What makes the OE LIDO 3 Manual Coffee Grinder stand out from the rest of the OE line is its very consistent grinding and portable design.
Weighing in at just 1+ Kilo (2.7 lb), the LIDO 3 is made to be large capacity portable grinder.
The Orphan Espresso LIDO Coffee Grinder is a hand grinder which remains mainstay in any coffee lovers arsenal. The grinder features a full-range of grind adjustment (from Turkish Coffee to French Press grinds) constructed to last day in and day out to create optimally brewed cups of coffee.
It's made from lighter materials and incorporates an ergonomic handle and improved funnel top that is perfect for loading beans. Not only does the grinder reduce material waste, but its also a more consistent grinder taking less time to produce the right kind of grind.
To allow you to cart the device anywhere you want to go the Lido 3 comes with its own carrying case and accessories, making it one of the more unique hand coffee grinders to hit the road. The LIDO 3 also features 48 mm. Swiss made steel burrs with a more aggressive cut than a similar burr coffee grinder, so you can grind your coffee in less time without losing any quality.
Use the stepless grind adjustment with dual threaded rings to select and lock in your desired grind. The grinding axle is stabilized at the top of the hopper and below the burr by bronze bearings that reduce burr wobble. The grinder's rubberized grinding handle unlocks to swivel inward when you're ready to pack it up to go. You can store up to 70 grams (10 tbsp.) of beans in the hopper, while the anti-static grinds bin can safely contain around 100 grams of ground coffee.
As such the OE LIDO 3 Manual Coffee Grinder is a completely full-range grinder that can tackle everything from Turkish coffee to French Press grinds, to espresso. The grinder is well positioned to tackle these different grinds while still being quite affordable and holding its own value.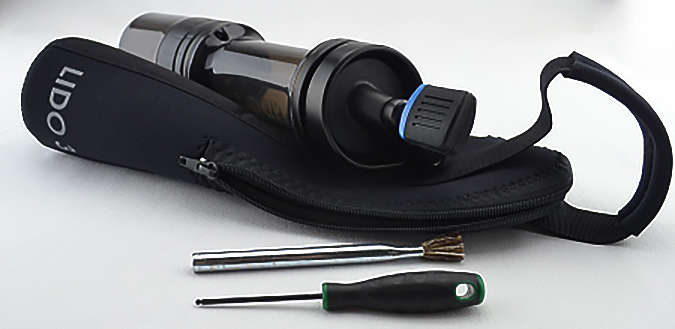 PORTABLE AND LIGHT DESIGN FOR TRAVEL:
The OE LIDO 3 coffee grinder made for the coffee lover who likes to travel. Its diecast folding crank handle easy swings in to allow the grinder to be packed away into its included carrying case. The grinder also uses less materials so it is lightweight and portable for on the go brewing.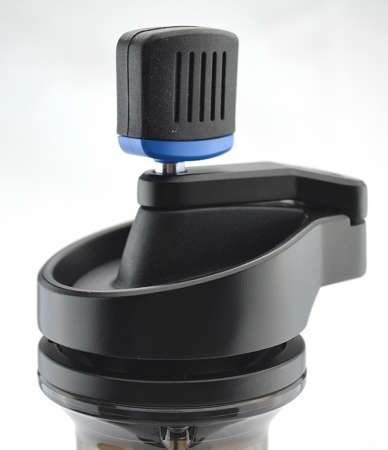 EASY TO GRIP HAND GRINDING ACTION:
The LIDO coffee grinder has been designed with an ergonomic, soft grip handle knob. The easy grip handle allows for a quicker manual grind with more precise grounds.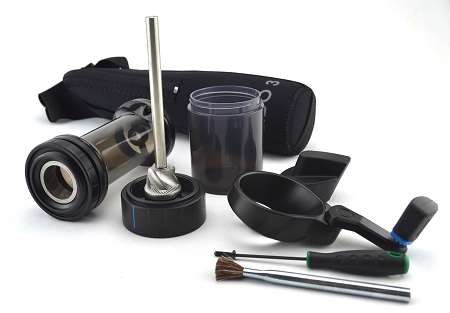 HIGH-QUALITY MATERIALS AND CONSTRUCTION:
The OE LIDO 3 Manual Coffee Grinder features a high quality, 48mm Swiss-made steel conical grinding burr set. Its bronze dual axle replaceable bearing system also provides full grinding stability and allows for more consistent particle size.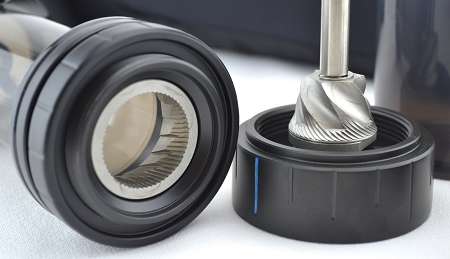 MADE TO LAST :
The OE LIDO 3 is made to withstand daily grinding while still upholding its value.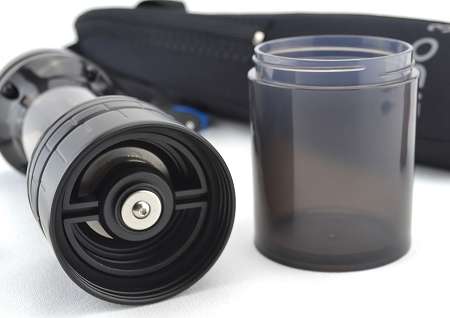 LARGE CAPACITY HOPPER:
The grinder features a large capacity BPA free food safe hopper which can hold up to 70 grams of coffee beans. It also includes an anti-static plastic catch jar.
OE Lido 3 Manual Coffee Grinder Disassembly and Assembly Instructions
LIDO 3 FEATURES:
48mm Swiss Made Steel Conical Grinding Burr Set
Diecast Folding Crank Handle with Integrated Funnel for easy bean loading
Soft grip handle knob
Large Capacity Food Safe BPA Free Plastic Hopper holds up to 70 grams (10 tablespoons) of coffee beans
Bronze Dual Axle replaceable Bearing System for complete grinding stability and consistent particle size
Micrometric Stepless External Grind Size Adjustment System
Solid Rubber Hopper Stopper for Funnel
Anti-Static RTP Permastat ABS Plastic Catch Jar
One step disassembly process for trouble free cleaning with the included natural bristle brush
Assembly/disassembly uses a single included tool
Dimensions: 13.5" overall height to the top of the knob, 3" diameter at the catch jar (not including bag or tools)
Smooth Grip Tinted Hopper is 2" in diameter
Weight - 2 lb 5oz (1052 grams)
What's in the box:
LIDO 3 hand coffee grinder
​Carrying case (Neoprene)
Silicone rubber hopper lid
Hex tool for grinder maintenance
Cleaning brush (Natural bristle)
Owners manual
SIGN UP AND GET 5% OFF TODAY
HURRY, LIMITED TIME OFFER* FIRST TIME CUSTOMERS ONLY!