Hario Mini Slim Plus, Manual Coffee Grinder, Ceramic Burrs
Hario Mini Slim Plus, Manual Coffee Grinder, Ceramic Burrs
Hurry, take advantage of your limited time offer.
ENJOY 5% OFF* STOREWIDE with coupon "FP5".
discount will be automatically applied on the price of the qualifying product as you checkout
*brands are excluded: Baratza
FREE* U.S. SHIPPING ON ORDERS $49+
NO HASSLE 45 DAYS RETURNS
NO SALES TAX*
PRICE MATCH & 100% SATISFACTION GUARANTEED
100% U.S. Based Customer Service. Contact us or call (505) 750-1144
WORLDWIDE SHIPPING
Easy and fun
This grinder is very compact and has very few parts so it is space saving. It grinds easily and is easy to clean. Enjoy the aroma of your ground beans and feel good about not using electricity!
Dear Ning! Thank you for your feedback. We are appreciate it very much. All the best, FrenchPressCoffee.com
Grinder
Bought to replace my 10 year old Hario Mini Slim Plus, Manual Coffee Grinder. Coffee tastes Great!
Dear Jer! Thank you for your feedback. We are appreciate it very much. All the best, FrenchPressCoffee.com
My first grinder.
I used my Hario Mini Slim + right out of the box for my aeropress. It did a great job.
Hello Samuel! Thank you for your feedback. We are appreciate it very much. All the best, FrenchPressCoffee.com
HARIO Ceramic Coffee Mill Plus vs HARIO PRO, (MSS-1DTB / MSCS-2DTB / MMSP 1 / MMCS-2B)
The Hario Mini Slim Plus, is a compact and convenient burr hand grinder. It is easy to include in travel luggage and is durable enough for tough camping trips.
The Hario Slim Plus is a huge improvement over its immediate predecessor, the Hario Mini Mill. Although the basic form is the same, the Mini Slim Plus has a more durable shaft coupling and handle. It also comes with easily washable ceramic burrs that are more durable than the steel burrs of its competitors.
You get plenty of volume with the Hario Mini Slim Plus. The hopper in the Slim Plus holds more than 40 g. of coffee beans. The grinds chamber holds another 30 to 40 g. of ground coffee, depending on the type of beans that you are using.
Aside from the characteristics mentioned above, the reason that many people use the Hario Mini Slim Plus is because of its convenience. It is one of the simplest mini grinders to use, even under the stress of travel. The click wheel gives you a stepped grinding adjustment that is usually only available in more sophisticated, larger grinders. It is also very easy to disassemble and clean, and the handle is also detachable.
At 3" x 3" x 7.25", the Hario Mini fits all of its features into an incredibly small package. It weighs only 0.5 lbs (255 g), so it will not add nearly anything to your luggage.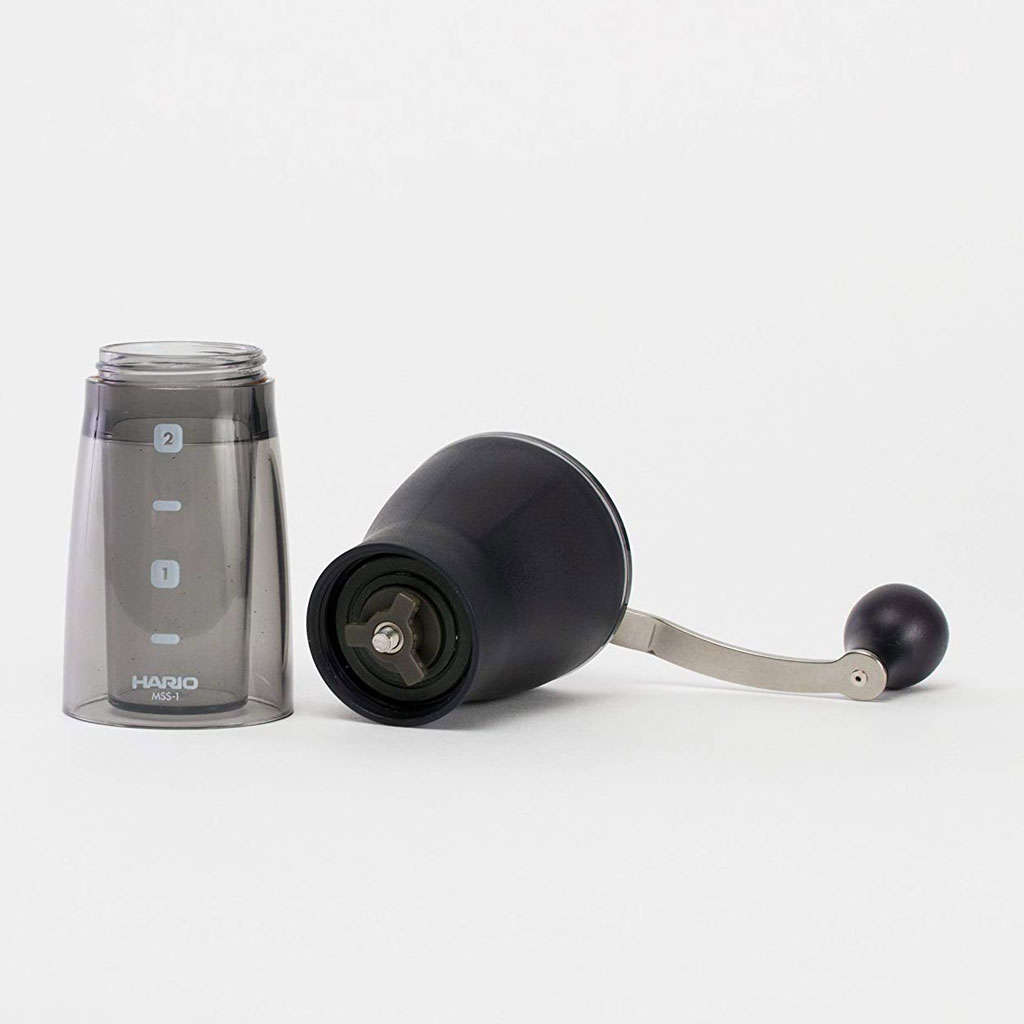 FEATURES:
GREAT FOR AEROPRESS or small FRENCH PRESS - You can use your Hario Mini Slim Plus alongside Aeropress without any extra effort. Make a great cup of coffee that is also easy with this convenient compatibility.
EASY TO USE - The Hario Mini Slim Plus is extremely convenient overall. You do not have to be a professional barista to get the best blend of beans for the best cup of coffee
SIMPLE TO CLEAN - You can clean your Slim Plus without any effort as well. All of the major working parts come apart so that you can get all of the extra debris out and continue to have top performance over time.
BIG VOLUME IN A SMALL PACKAGE - You get a 40 g bean hopper and an additional 30 to 40 g in the grinds chamber - all of this in a frame that is only 3" x 3" x 7.25".
CONICAL CERAMIC BURRS - Ceramic burrs give better performance than steel burrs, and they are also much easier to clean. Overall, this vital organ of your Hario Mini Slim Plus extends the life of the grinder a great deal.
GET 10% OFF TODAY
your first purchase
BE THE FIRST TO GET PROMO OFFERS STRAIGHT TO YOUR INBOX
HURRY, LIMITED TIME OFFER* FIRST TIME CUSTOMERS ONLY!
Our most popular products based on sales and ratings. (Updated monthly)
View BESTSELLERS
Take a look at the great Coffee Coupons and Special Offers we have for you.
View COUPONS