AirScape Coffee Storage, Stainless Steel Coffee Canisters by Planetary Design
AirScape Coffee Storage, Stainless Steel Coffee Canisters by Planetary Design
FREE FRENCH PRESS INSURANCE (EXCLUSIVE)
IF YOUR FRENCH PRESS IS BROKEN, WE'LL GIVE YOU 50% STORE CREDIT


FREE 1 YEAR FRENCH PRESS INSURANCE* AGAINST ACCIDENTAL BREAK
FREE* U.S. SHIPPING ON ORDERS $35+, FREE RETURNS
NO HASSLE 45 DAYS RETURNS, NO SALES TAX*
PRICE MATCH & 100% SATISFACTION GUARANTEED
100% U.S. Based Customer Service. Contact us.
WORLDWIDE SHIPPING
Great coffee storage
Functional and attractive. Way better than the gallon Ziploc I was using
Hello Christopher! Thank you for your feedback. We are appreciate it. All the best, FrenchPressCoffee.com.
Airscape
This is my second airscape and they are awesome. Great for coffee beans!
Hello Darvin! Thank you for your feedback. We are appreciate it. All the best, FrenchPressCoffee.com.
Perfect!
I really wasn't sure what i was getting when i ordered this. It is PERFECT! Pulls all of the air out and seals off the beans to keep them fresh! I am very satisfied with this purchase. You won't be sorry if you order this to keep your coffee beans fresh, it is not only functional it is nice to look at on the kitchen counter!
Hello Paulette! Thank you for your feedback, we are appreciate it. Enjoy your coffee, FrenchPressCoffee.com
Storing coffee beans in an Airscape coffee canister will extend the life of your beans and keep coffee beans really fresh.
These coffee canisters are made from restaurant grade stainless steel which will impart no "off" flavors to your coffee beans.
VIDEO REVIEW: Airscape Coffee Canister
Unlike plastic food containers, AirScape Stainless Steel Storage Canister are stain and odor resistant, so you can use them for a variety of items without worrying that flavors will be absorbed into the interior of the coffee storage container.
The top lid of the Airscapestorage coffee container is clear plastic, allowing you to see how much coffee you have in the canister without having to open it, further protecting the integrity of your coffee beans. However, the lid does not allow harmful ultraviolet rays into the coffee storage.
While oxygen is a good thing sometimes, when it comes to the proper storage of coffee beans, oxygen is the enemy. Oxygen allows the essential oils of the coffee beans to be damaged, degrading the quality of your pricey, gourmet coffee beans. The Airscape Coffee Canister, however, can prevent this damage from taking place. The patented valve in the lid of the coffee container forces air out of the canister, locking the lid in place and protecting your coffee from damage.
Gourmet, specialty coffee beans can add a touch of exotic glamor to your morning cup of coffee. These specialty beans can hint at floral notes, fruity notes, or even spicy flavors. While they are not cheap, if you really love coffee, it is worth the extra expense to have a unique coffee experience each morning. However, to protect the flavors of the coffee beans, you have to store them properly.
The exterior of the Airscape coffee canister is coated in enamel paint and is available in five colors to match any decor. You can choose from Mocha, Candy Apple, Turquoise, Brushed Steel, or Black.
When you use the Airscape coffee canister, the last few coffee beans used from the container will be as fresh as the first ones that you used, thanks to the amazing technology of the designers. The Airscape coffee canister holds up to 64 ounces by volume. It is 7 inches tall with a 4 1/2 inch circumference.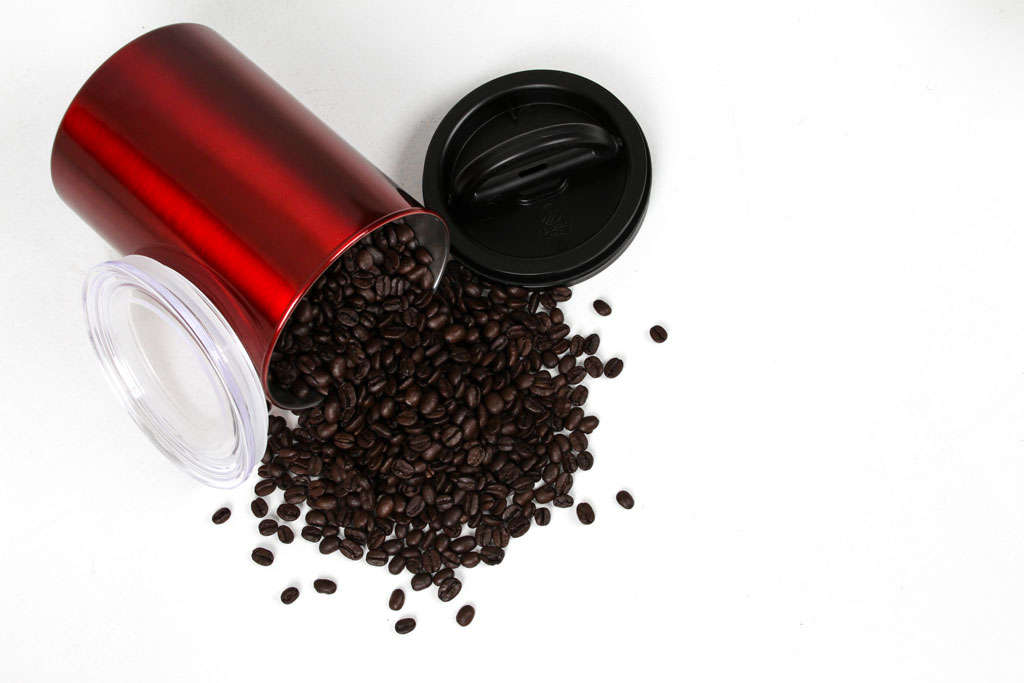 GREAT FOR HOME ROASTERS AND HOME BARISTAS:
The Airscape coffee canister is crafted from high quality, restaurant grade, 18/8 stainless steel. The exterior of the canister is coated with an enamel paint finish in five different color options.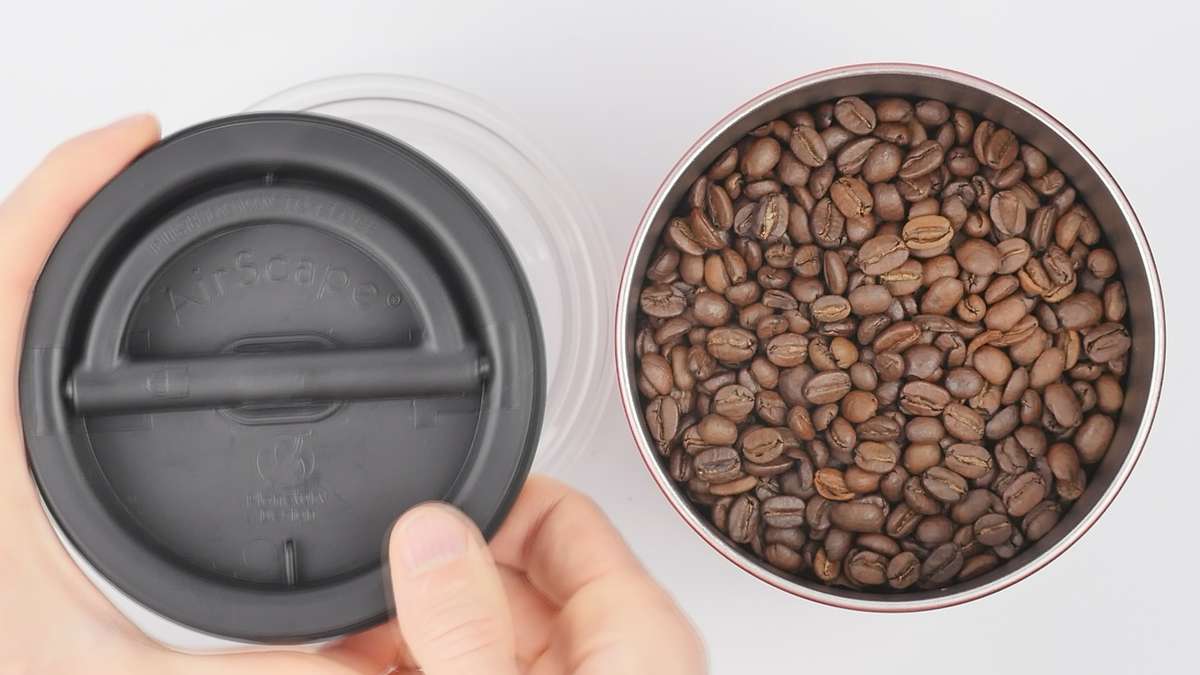 AIR-TIGHT STORAGE:
The locking lid forces air out of the canister's interior to protect the integrity and flavor of your favorite gourmet coffee beans.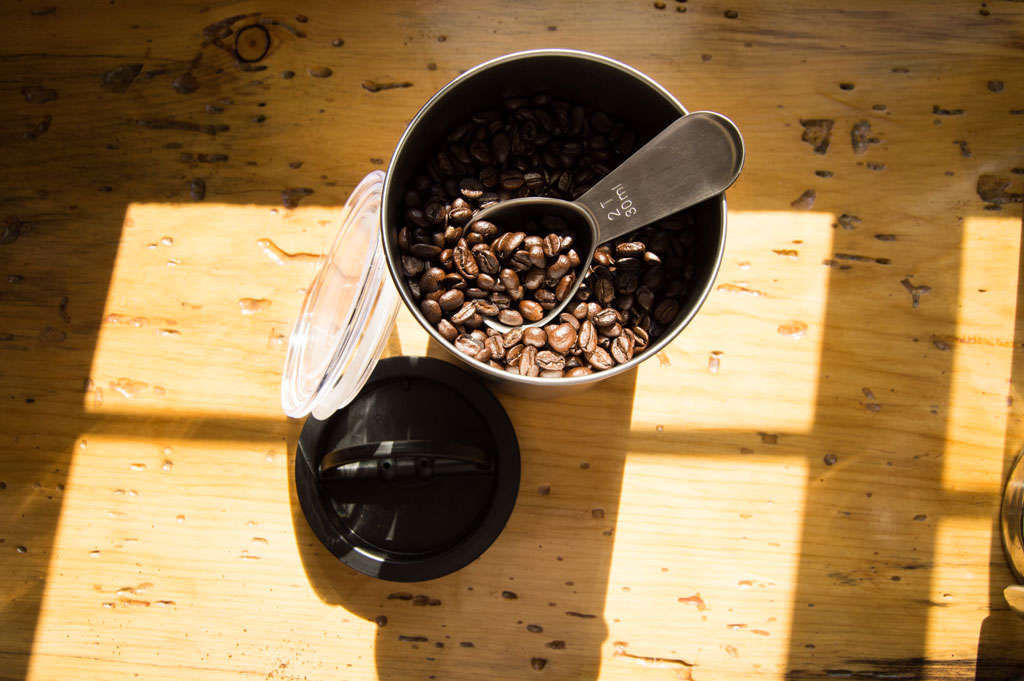 KEEPS COFFEE FRESH:
The Airscape storage coffee canister protects your coffee and food against humidity, insects, and oxidation.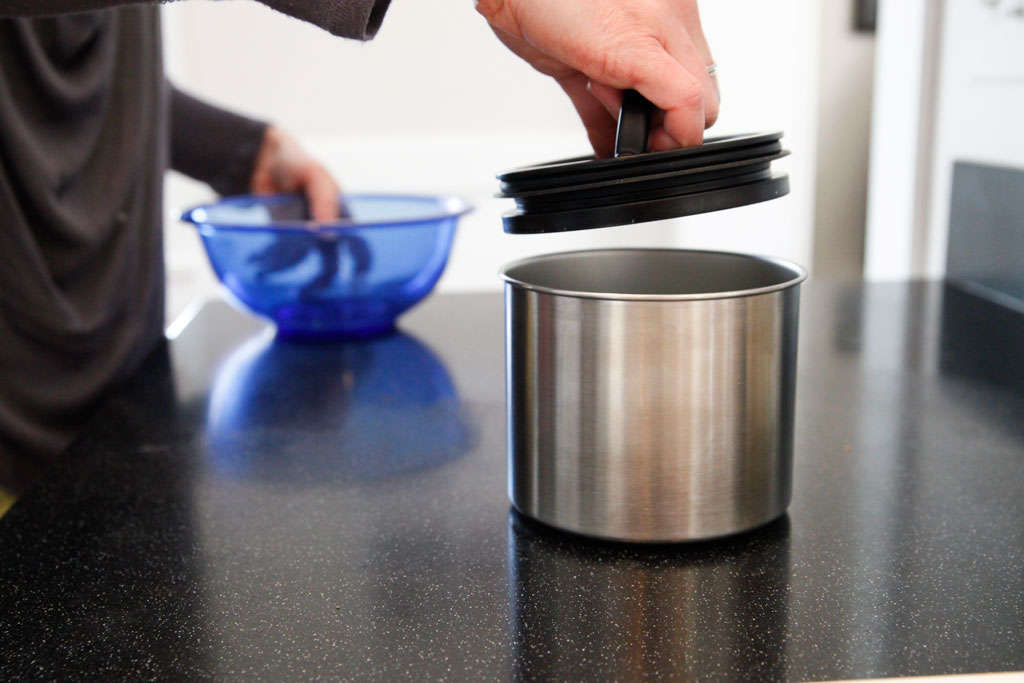 NO ODORS OR STAIN, EASY TO CLEAN:
The stainless steel interior will not absorb odors or stain. You can use the canister for a wide variety of food products without worrying about flavor transfer.
What's in the Box:
AirScape Coffee Canister (Stainless Steel)
AirScape Steel Top Lid
AirScape Plunger Lid
EXCLUSIVE: 1 tbsp. Plastic Measuring Scoop
QUICK FRENCH PRESS COFFEE:
SIGN UP AND GET 5% OFF TODAY
SIGN UP TO OUR NEWSLETTER - GET 5% OFF* TODAY. HURRY, LIMITED TIME OFFER!