Third Wave Water - Optimizing Coffee and Espresso Brewing, Water Mineral Enhancer
Third Wave Water - Optimizing Coffee and Espresso Brewing, Water Mineral Enhancer
Hurry, take advantage of your limited time offer.
ENJOY 5% OFF* STOREWIDE with coupon "FP5".
discount will be automatically applied on the price of the qualifying product as you checkout
*brands are excluded: Baratza
FREE* U.S. SHIPPING ON ORDERS $49+
NO HASSLE 45 DAYS RETURNS
NO SALES TAX*
PRICE MATCH & 100% SATISFACTION GUARANTEED
100% U.S. Based Customer Service. Contact us or call (505) 750-1144
WORLDWIDE SHIPPING
Seems to work well
I havent done experiments vs spring water but I think this is more of a coffee pros tool when cupping coffee.
Third Wave Water packets are compliant with The Specialty Coffee Association (SCA) guidelines for optimum brewing water. The packet contains the perfect amount of the following natural minerals:
Magnesium: highlights the natural sweetness in coffee
Calcium: a soluble bonding agent for maximum extraction
Sodium: amplifies the complex flavor profile of the coffee (less than 10 mg/10 oz cup)
Third Wave Water Classic Profile vs Espresso Profile - What's The Difference?
The Espresso profile was engineered to protect your espresso machine while simultaneously providing high magnesium profile for bright extraction. The classic profile is for everything else: French Press, Pour Over, Keurig ... etc.
When it comes to coffee water truly matters. As coffee is 98 percent water, the right kind of aqua makes the difference in a great cup of coffee. Water can also make or break a tasty cup, with bad water ruining a great cup of coffee. Bad water can also ruin your costly coffee brewing equipment.
Third Wave Water Mineral Enhanced Flavor Optimizing Coffee Brewing Water was created to help solve these problems. The liquid is designed to be the perfect water for brewing coffee. With high standards, Third Wave Water packets are compliant with the Specialty Coffee Association (SCA) guideline for optimal brewing water that is great for both coffee and coffee brewing equipment.
Each packet of Third Wave Water contains the perfect amount of natural minerals. Packets include magnesium to bring out the natural sweetness in coffee, calcium which is a soluble bonding agent used for maximum extraction, and sodium which is utilized to amplify the complex flavor profile of each cup of coffee, using less than 10 milligrams for every 10-ounce cup of coffee.
To enjoy the benefits and fresh taste of Third Wave Water simply add a packet to a gallon of de-mineralized water that has been distilled through reverse osmosis or deionization. The minerals will go to work turning the water into the best possible base for your coffee beans. The water can then be stored at room temperature and used to refill your coffee brewer or kettle whenever you need it.
You can choose from two different water profiles for your optimal cup. The Espresso Profile was made to protect your premium espresso machine while also allowing you the most delicious tasting shot. The Classic Profile was created for almost any type of brew from a drip maker, to a pour over, to a French Press, Keurig, Nespresso, or even a cold brew and so much more.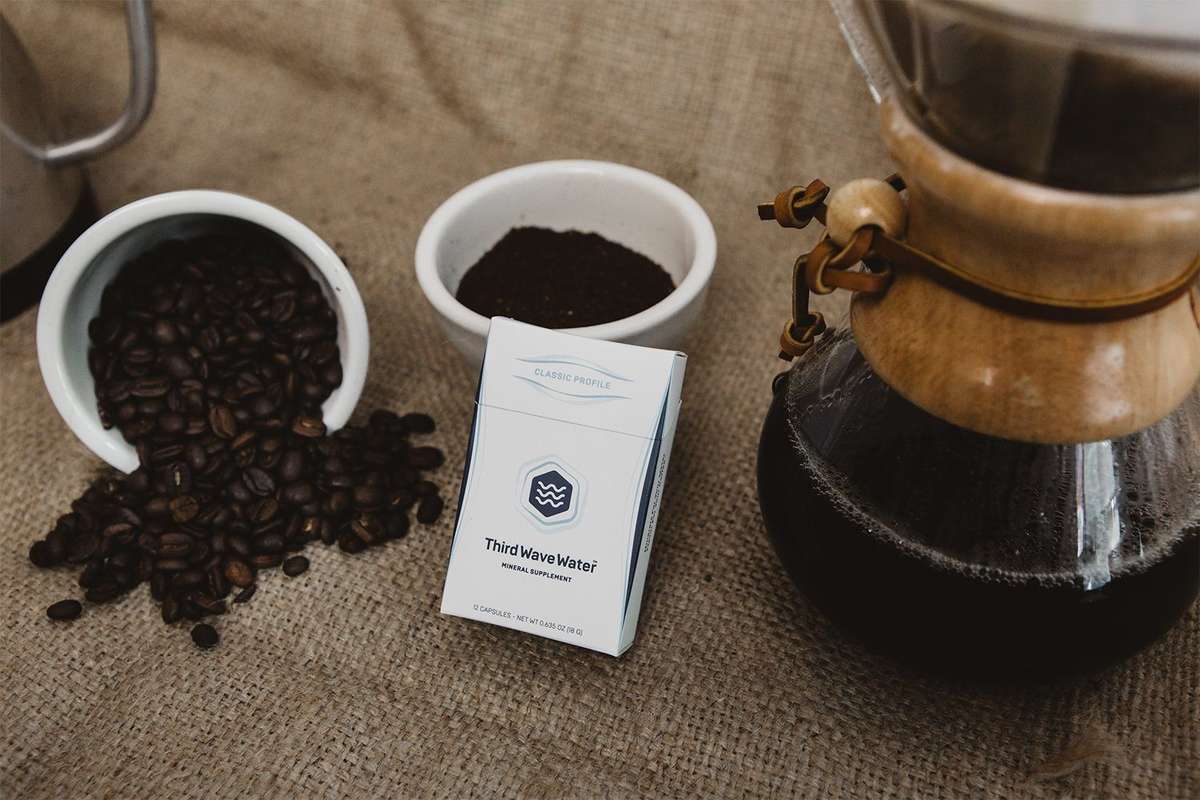 With the right amount of minerals to balance out your water Third Wave Water helps coffee to taste better.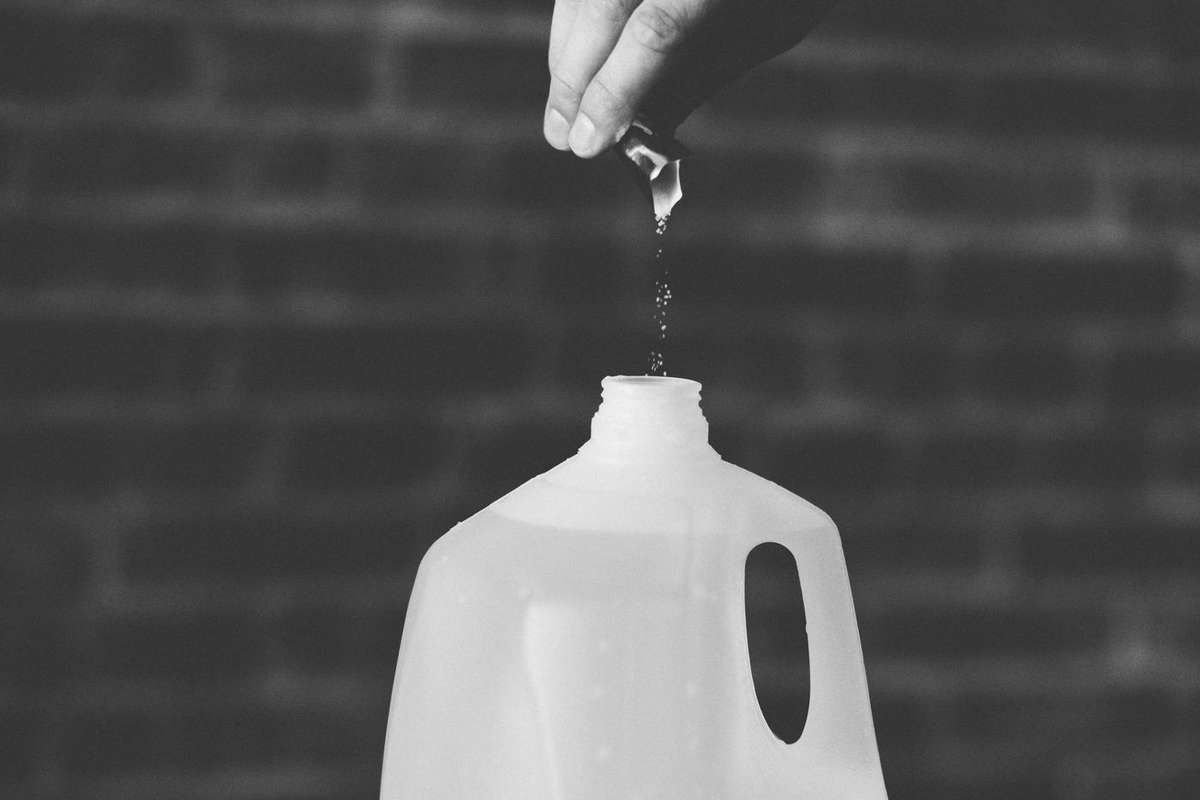 MEETS HIGH STANDARDS FOR COFFEE BREWING:
Each packet combines magnesium, calcium, and sodium to be compliant with the Specialty Coffee Association's guidelines for optimal brewing water.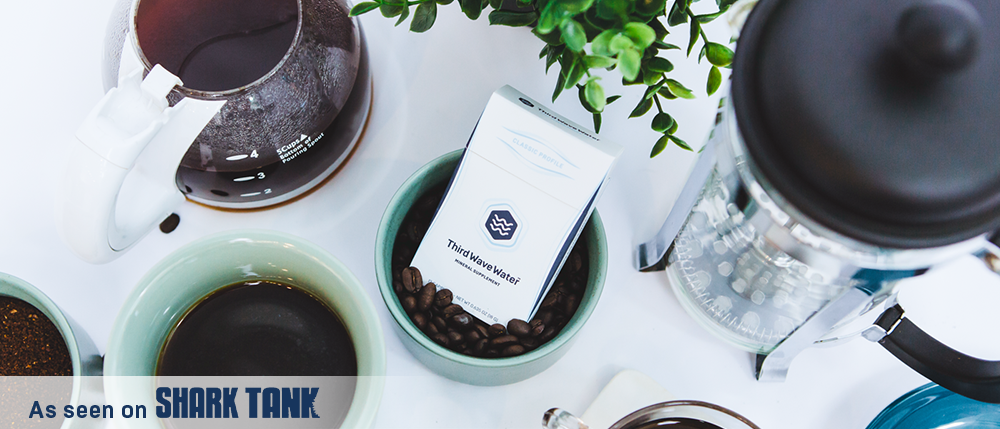 EASY ON COFFEE BREWING EQUIPMENT:
Third Wave Water packets create better water which is also better for your expensive coffee brewing equipment. Its gentle impact will keep your devices cleaner and stronger for longer, resulting in less wear and tear in the long run.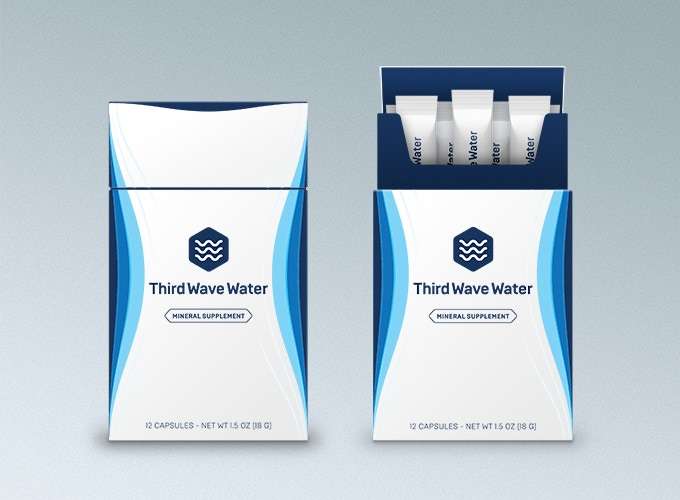 TWO DIFFERENT FLAVORS FOR BREWING:
Water packets are available in either the Espresso Profile or the Classic Profile so you can brew the optimal cup whether you're using a French Press, pour over, Keurig, espresso machine, cold brew, or other device.

FAST ACTION PACKETS:
Brewing the best cups of coffee is easy. Simply add the Third Wave packet into water, shake it up, and start the brewing process. You don't have to wait for optimal water.
SIGN UP AND GET 5% OFF TODAY
HURRY, LIMITED TIME OFFER* FIRST TIME CUSTOMERS ONLY!